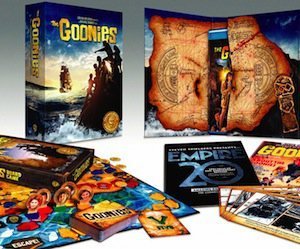 The Goonies 25th Anniversary Edition Blu-ray box set | $39.99
No one's gonna suggest that you upgrade all of your DVDs to Blu-ray (except for Sony … and Warner Home Video … and Best Buy … actually, never mind), but if you haven't already added this cross-generational classic to your collection, now is as good a time as any. It includes such analog extras as a board game, original storyboard reproduction cards, a reprint of the 1985 Goonies souvenir magazine, and a 2009 Empire magazine article reprinted with cast photos and updates. They're like DVD extras, but on paper!
Willing to spend more on a DVD box set? Well then …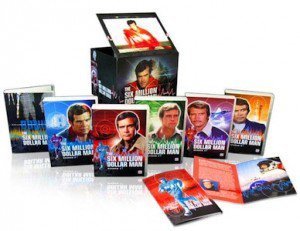 The Six Million Dollar Man: The Complete Collection | $179.95
You may want to keep your bionic eye on this humongous box set containing 100 episodes of the groundbreaking series. Lee Majors completists will also be happy to know that it boasts 17 hours of bonus features across 40 DVDs, all in a box that talks. That's right — talks! Rejoin Steve Austin (stone old, not Stone Cold) and his bionic mustache as they run slow-motion through hamfisted henchmen, yards of polyester and a parade of guest stars like Kim Basinger, Andre the Giant, and Rick Springfield.