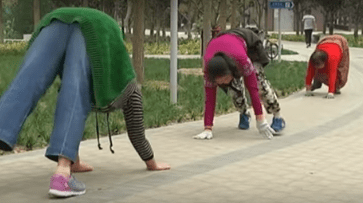 We know, we know — jogging, running, and lifting weights gets boring rather quickly. But those activities help spare us the horror of having our bodies turn into a pile of mashed potatoes. So we do those exercise-ish things regularly, and so far, it's working — we currently have bodies that look like moldy gourds.
In China, as reported by the Daily Mail, they're not worried about stale workout routines, because they spice things up by doing group … crawling. Yep, handfuls of people crawl on walkways, footpaths, and other places dogs piss.  But that's why some people opt to wear gloves, because who wants dog piss and feces, gum, cigarettes, snot rockets, wads of phlegm, stale Coke, spilled coffee, dried vomit on your hands while you exercise?
Oh, you think it sounds weird? Pfft. Open your mind, buddy. Go ahead and take a look at this video of people doing bear crawls on a sidewalk as if they're searching for a lost contact and then tell us it's weird …
Okay, yeah, it's weird. If that's not your thing, consider reading this next …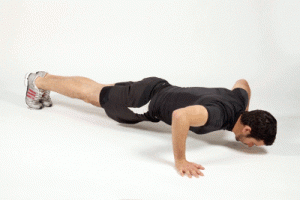 A Bodyweight Workout Plan for Men Who Hate Working Out
Want to get ripped, er, look semi-decent naked without stepping foot inside of a gym? Try this bodyweight workout.