Rogaine Unscented Topical Foam ($30)
When you're young, dumb, and full of … hair, you probably don't worry about going bald. But eventually, baldness starts to happen to most of us. If and when it does, you can counter with Rogaine, which has been clinically proven to regrow hair. Last year, the company unveiled its Unscented Topical Foam after a study found that more than half of its users wished they could use the product without reeking like chemicals. Each 2.11-oz can lasts about a month, and the easy-apply canister makes the twice-a-day foam application a breeze.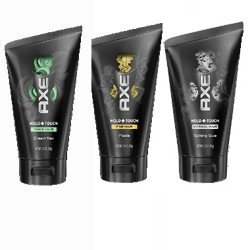 AXE Hold + Touch ($7)
AXE's Hold + Touch styling products are set to appeal to a broad base of guys thanks to their sleek packaging and pastes that leave hair soft, not crunchy. Also new: separate formulations for normal, fine, and thick hair.