MARVIN MALTON 160 CUSHION WATCH ($1,580)
It can be tough to make your watch stand out. But since so many watches are some combination of black and white, having some color on the dial and/or band often does the trick. And the new Malton offers up just the right amount. But it's not just a fashion piece — the 42mm x 42mm watch features an automatic movement with a 38-hour power reserve, a sapphire crystal, and water resistance to 50 meters.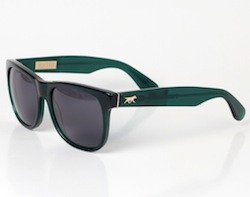 RED'S FREDERICA SUNGLASSES ($115)
Why the little lab on the side of the sunglasses? Because the company was started by friends who named it after the dog of another friend who'd died. Okay, so that's kind of a bummer, but as a result a portion of all profits go toward a charity — plus, the sunglasses are pretty cool. They'll help you stand out from the billions of people wearing standard Wayfarers thanks to not only Red (the dog) but also color options muted enough to make you look cool, but not in a guy-in-a-1980s-teen-comedy sort of way.