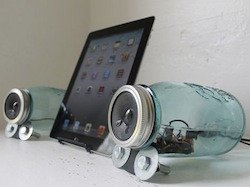 MASON JAR SPEAKERS ($75)
Unless you've been on your wife or girlfriend's Pinterest boards lately, you probably have absolutely no idea how obsessed women have become with mason jars and anything having to do with mason jars. Weird? Maybe. But instead of questioning it, capitalize on it. It's a pretty safe bet that she'll love these upcycled speakers, hand-made from a pair of antique blue Ball mason jars. They work with any audio source, so she can set them up and start listening in seconds.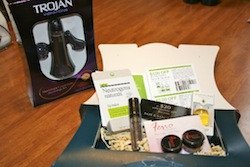 BEAUTYGASM COLLECTION ($30)
If you simply can't decide what to get her, we suggest you go for a gift that packs six presents in one. The Beautygasm Collection contains a Trojan Vibrations Interchange 5.3 (a sexy-time toy that would normally set you back $79), a $20 voucher to the shoe website solesociety.com, and a bunch of beauty swag: Neutrogena Naturals Lip Balm, NYZ Roll on Shimmer, Ferro Blush X3, and ALFAPARF Cristalli Liquid Hair Serum. Don't know what all of that even does? It doesn't matter! The wide variety of stuff in the Beautygasm Collection will maximize your odds of gift-giving success, and that's all that matters.