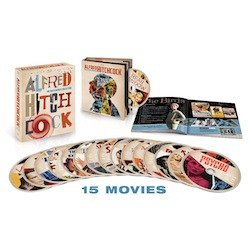 ALFRED HITCHCOCK: THE MASTERPIECE COLLECTION ($300)
Collecting 15 of the suspense master's greatest films (13 of which make their Blu-ray debut here), this "Masterpiece Collection" is arguably the best offering from Universal Studio's year-long 100th anniversary celebration. The line-up is all-killer, no-filler: Psycho, Saboteur, Shadow of a Doubt, Rope, Rear Window, The Trouble with Harry, The Man Who Knew Too Much, Vertigo, North by Northwest, The Birds, Marnie, Torn Curtain, Topaz, Frenzy, and Family Plot (only Psycho and North By Northwest had been released on Blu-ray previously). It's basically a master class on filmmaking — plus, you can create a drinking game around trying to spot Hitchcock's subtle cameos in many of his films.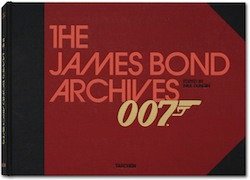 THE JAMES BOND ARCHIVES ($200)
In case you haven't heard, Mr. Bond turned 50 this year (yes, he knows he doesn't look it), and this has resulted in a lot of 007-themed merchandise. But Taschen Books' handsome Archives is without a doubt one of the coolest and will appeal to any die-hard Bond fan. It's an exhaustive collection of photos, storyboards, and production materials, thousands of which have never been seen before. (They're For Your Eyes Only! Get it?) There's also a complete account of the making of every single film up to and including Skyfall. No self-respecting Bond fan can lay claim to that title without this on his shelf. But act fast, because only about 500 of these bad boys have been made.