LEVI'S 501 ORIGINAL FIT JEANS
There are lots of $200 jeans out there. Many of them are quite nice. But it's pretty hard to beat an American original — especially when 501s are still so affordable. Oh, also? They'll impress women just as much (if not more) than more expensive jeans. A few tips: You should basically never wash them — to get rid of smells, try throwing them in the freezer for a few hours. If you do wash them, do so in cold water, then air dry them — or better yet, let them dry while you're wearing them (seriously, if they shrink, they'll shrink to fit you better).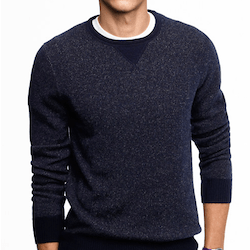 J. CREW CASHMERE TWO-TONE SWEATSHIRT
Do you want an alternative to that ratty sweatshirt you've been wearing for years? Let me rephrase that: You need an alternative to that ratty sweatshirt you've been wearing for years. This J.Crew cashmere version will make you look stylish and sophisticated while still letting you be completely comfortable. And while it's a little pricey, women will want to touch it (cashmere is super soft), and it's versatile enough to be dressed up like a sweater or dressed down like a sweatshirt.
DEARBORN OVERSHIRT
Is it a heavy shirt? Is it a light jacket? Is it … both? Whatever you want to call it, the American-made Dearborn is about as functional as it gets. The stretch cotton is treated in a process that instills the cotton shirt with magical water- and stain-repelling abilities while allowing it to remain breathable. The point is, even a complete slob will end up looking cool in this shirt.