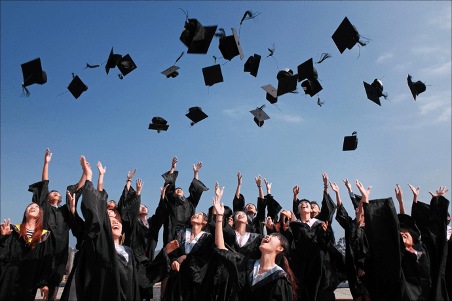 Graduating from your loved and hated educational establishment is both an exhilarating and stressful experience that subjects you to numerous challenges. Yes, no matter how unbearable and sometimes burdensome academic life can be, it still left a weighty impression on your life and gave you countless unforgettable moments to hold dear. And getting ready to enter a brand-new, college-free life is quite a debilitating venture for most graduates. To equip yourself for the rigors of adult life as you leave academia means to undergo substantial changes required for post-college life.
However, there are a number of steps you can take to transition from your carefree, sunny college days to reserved adult routine more successfully. Let's take a look at what you should do after graduating from college to facilitate your life!
1. Consider Your Professional Objectives
It's natural that, after finishing college, you'll have an unrestrained desire to find the job that will fit in your academic major. You no longer buy essay writing from online services, and there are no finals to keep you in tension – after saying "goodbye" to college, you primarily have to settle around with the plans and goals connected with your profession and the academic degree you have. Make sure to think over what job will match the major you gained, create a list of the potential jobs you'd like to apply for, and get started with preparing for your application! When choosing the job, be sure to take into consideration your main preferences and what exactly you expect from the job.
2. Create a Compelling Resume
To be able to apply for a job, you need to have a document representing your worth as a candidate for the position. When creating a resume, it's important that you use the structure as required – tailoring your CV to the standards and rules will make it more attractive and professional. In addition, there may be some specific requirements for your curriculum vitae generated specifically for the position you're applying to. If there are any, you need to consider them too, as following the rules created specifically for the particular position tells a lot about you as a potential employee. Thus, you have to be meticulous and responsible when tending to your resume.
In your CV, you need to include your major milestones as a student and previous professional achievements, if there are any (you might have had your first job while studying, be it a job connected with your major, or a different one). Also, be sure to mention the awards you received as a college student that may relate to your candidacy for a particular position. Make your CV laconic and clear, avoiding fluff-ups and flowery language that fits in more literary styles of writing.
3. Plan Important Things
Planning is an incredibly useful practice, no matter what it is you're about to do. And planning proves to be especially helpful when it comes to dealing with your post-graduate life. When you finish college, there are so many things on your agenda that overwhelm you and require your proper attention: getting a job, finding an apartment, and many other challenges that lurk around the corner of your adult life. And fulfilling every urgency without working it out in advance is a huge mistake that will prevent you from completing your tasks successfully. Dedicate some time to planning your everyday routine and noting what critical things you need to do. No one is saying you need to organize your day to the bone, writing down what you will be doing during a particular hour all around the clock. But sketching a decent plan of your important days will only do you good.
4. Keep Your Connections Alive!
Maintaining important connections in your new life is beneficial for you as a recent graduate. Stay in touch with the people that might somehow help you get around in your new adult life. And this doesn't mean that you are taking advantage of such people – keeping your relationships and connections in good shape is a part of healthy human communication. That being said, you should try to make useful acquaintances and friends, while also maintaining the connections you already have so you can get in touch with them if you have any need for it.