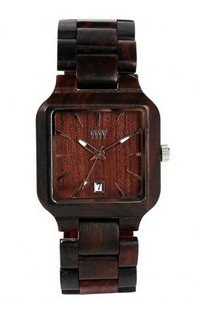 WeWOOD Metis Chocolate ($120 @ Amazon.com)
WeWOOD is the brainchild of an Italian watch lover and two eco-smart entrepreneurs. As such, they construct their eye-catching timepieces from mostly scrap-wood, they use state-of-the-art Miyota movements to control the watch's technology, and, eco-friendliest of all, WeWOOD plants a tree for every watch you purchase.
The WeWOOD collection comes in a variety of shapes and colors, and the Metis Chocolate (made from Indian Rosewood) is especially striking and sophisticated, as well as solidly made. Though it should go without saying for a brand so eco-aware, every WeWOOD watch is hypoallergenic and free of toxic chemicals, so you'll be appropriately on-trend. And admirable.
Next: Dive, dive, dive!