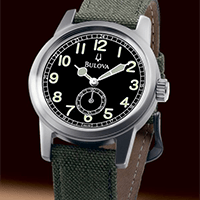 Bulova The Hack ($98 @ Amazon.com)
Much like a fine scotch, some watches improve with age. That said, there's a big difference between vintage and just plain old. You're looking for something well-made your grandfather might have proudly worn long before you were born — not for the Eisenhower-era version of a $15 digital.
If you weren't fortunate enough to have Gramps bequeath you a Rolex, Omega, or Patek, you still have options. A Bulova Hack is a great alternative because it doesn't just have beauty, it's got longevity — an earlier iteration of the Hack was issued to the U.S. Army during World War II. Remember: you aren't just buying a watch, you're buying a piece of wearable history.