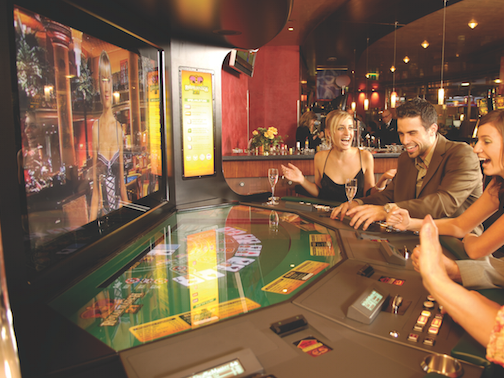 Blackjack — But Less Personal!
Casinos can arguably make more money without human dealers — games go faster, and computer screens don't need a 401(k). Well, say hello to the TableMaster Royal Match 21. It's basically an arcade game in the shape of a blackjack table — only instead of just a few quarters, it will happily take your paycheck, your savings, and your soul. At least you don't have to tip the dealer.
Where it is: Caesars Palace, Circus Circus, Flamingo, Harrah's, Treasure Island
Will it get our money?: We could stay home and play virtual blackjack — and at home, uptight pit bosses don't freak out when we forget to wear pants.
Backgammon, Only Different
One of the newest table games in Vegas, Casino Backgammon plays like backgammon (duh), feels like craps, and moves like Pai Gow (i.e., painfully slowly). See, you've got checkers and you roll two dice twice. The rolls determine where you move your checkers. The goal is to move checkers from the "inner" board to the "outer" board, then off the board entirely. Basically, you need to roll at least a 9 every time. Best-case scenario: You win 40:1. Worst-case scenario: You lose it all.
Where it is: O'Shea's
Will it get our money?: As far as we're concerned, there's room in the casino for one dice game, and that's craps.
Buying souvenirs
It's easy to get caught up in the excitement of Las Vegas and want to bring home souvenirs, but these can be expensive and quickly add up.