Even if you hate dressing up, you're going to have to do it. So get used to it. That means ties and sport coats and dress shoes with socks that go past your ankles. Like it or not, people — women, potential clients, bathroom attendants — judge you by your dress, specifically your shoes.
Also: Cool Casual Shoes For Under $75
So it when you need to make a lasting first impression, make sure you're putting your best foot forward with your footwear. (We swear that pun was unintentional, but we're still ashamed.) What might surprise you is that you can pick up a decent pair of shoes without spending too much money. Sacrifice $100 and you pick up cheap shoes that don't look cheap.
CAP TOE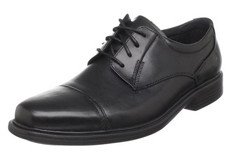 #1. Bostonian Men's Wenham Dress Lace Up ($50+ @ Amazon.com)
The most simple of dress shoes, this leather cap toe can be worn with formal and less traditional suits, and feels as at home in a business office as it does at a wedding. What's that? Man's best friend is a dog? Nah. We say cap toe. If you're going to buy (or only need) one dress shoe, put your money towards a cap toe in black. The contrast lace color on this pair dresses them down and makes you look like you might be the type of dude who says "jiggy" (as in "jiggy with it") — so, uh, opt for black if you need something more formal.


PENNY LOAFER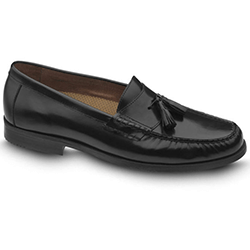 #2. Johnston & Murphy Pannell Tassel Leather Loafers ($100 @ Amazon.com)
A little retro, a little conservative, and completely fail-safe — these penny loafers from trusted menswear brand Johnston & Murphy are a great slip-on option for slacks and sports coats. Also, for the really adventurous prep who likes flirting with the line that separates "Classy" from "Complete Tool" shorts. They pair well with tailored denim, too. Pennies not advised, required, or tolerated.
Next: Monk Strap