Here's a rule: If the pants you're wearing have belt loops, you should be wearing a belt. (That's true times infinity if you're also tucking in your shirt.) Point being, you should probably have a couple of decent men's belts in your closet.
In addition to holding your pants up and giving your belt loops something to do, belts can give you fashion cred without you having to look like you're trying too hard. (Another rule: Your belt should fit, meaning the end shouldn't be flopping around.) Women notice and appreciate details — it's why they get annoyed when you don't notice that they cut off an eighth of an inch off their hair — so if you're wearing a cool belt, you'll score points. And we've rounded up five men's belts at several different price points that'll all score major points.
Great Belts For Men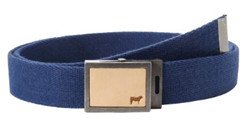 With it's smooth design and modern silver buckle, this is a versatile belt suited for both a suit and tie as well as jeans and a polo. With its durable design and recognizable brand name, you're sure to make a lasting impression for years to come.
Even if you have to wear a relatively normal belt due to a dress code at work, you can still stand out. This Italian leather job features zinc hardware and embossing — the pattern on the leather — both of which will catch the eye without raising the boss's eyebrows. The belt also works equally well with dress pants or jeans. Available in sizes 30-44.

Mission Belt Co.'s belts look slick, simple, and modern. And they also come with a prominent scratch-resistant metal ratchet buckle, so if someone jerk makes the mistake of going for a bladder punch they'll be goddamn sorry. All told they have 22 different types of belts in their arsenal and offer plenty of options for those guys looking for a quality "no holes' belt.