In a pinch, most of us have used a plastic grocery bag as a gym bag. And it was annoying to do so for a couple reasons, the most important being that having your stuff jammed into a cheap, tiny plastic bag is a colossal inconvenience. So while it's important for a gym bag to look cool, it's equally as important for it to provide enough compartments for function.
Also: 6 Cool Messenger Bags For Men
And this is especially true if you train at the gym during the day on your lunch break. You'll want to keep your cell phone, cologne, deodorant, toothbrush, etc. since you'll most likely want to keep those things away from soiled clothing or stinky running shoes. Plus, a cool and stylish gym bag can be used on an overnight trip, whether it be work or a booty call.

Made from lightweight materials and featuring durable handles, the Cool Down Duffel from Lululemon ($98 @ lululemon.com) gives you a stylish and convenient way to transport your belongings. Designed from water-resistant fabric to stay dry, this pack is ideal for your workout attire and other gym equipment. It also comes in a neutral brown shade to hide unsightly stains.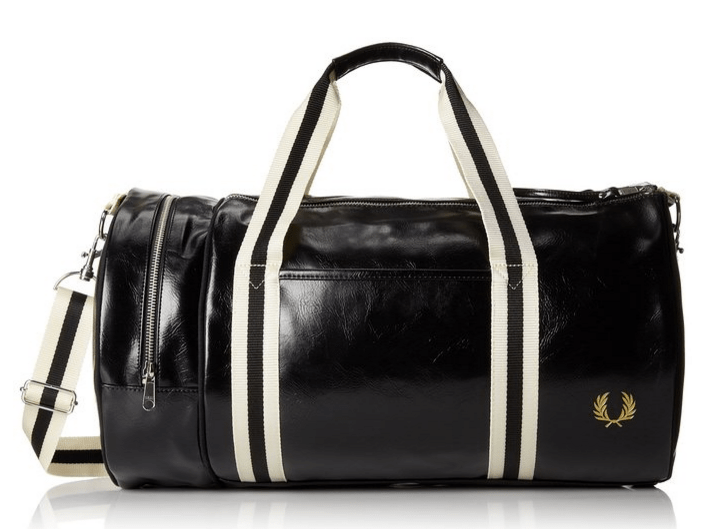 Style meets practicality in the Contrast Barrel Bag by Fred Perry ($65 @ Amazon.com). This faux-leather bag is easy on the eyes and comes in 7 different color combinations. You can choose to sling this across your (rock hard) gym body with the removable crossbody strap, or tote it with the two carry straps. Interior pockets abound to keep you organized.


Polo Ralph Lauren Canvas Gym Bag ($300)
It toes the line between classy and preppy, which simply means it's armed with plenty of style. With leather trim and lots of room for everything from a bocce ball set to running clothes to a small foam roller, this bag will satisfy the most discerning of gentlemen. Tennis, anyone?
Herschel Supply Co. Novel ($65 @ Amazon.com)
There's nothing wrong with a basic bag as long that it doesn't look too plain, and this straightforward bag does just that. It can hold a grab bag of gym clothes, or can serve an everyday purpose with the included padded laptop sleeve; it's great for commuters as well as gym goers.
Next: Nike & Casual Canvas