3. MARLINS PARK IS REALLY … MIAMI-Y
After playing in front of thousands of empty seats at Dolphins Stadium, the Marlins conned the city of Miami into building them a shiny new palace and then went about making it as gaudy as Collins Avenue. The stadium boasts an aquarium behind home plate full of extremely confused fish, and a moving home run sculpture in the outfield featuring flying fish and cascading lights. Picture Bernie Brewer in hour 37 of a South Beach rave.
4. THE PITTSBURGH PIRATES ARE REALLY … LOUSY-Y
Historians will probably credit Bud Selig with creating a modicum of parity across the league, but the Pittsburgh Pirates sure as hell didn't get the memo. We can safely predict on Day 1 that the Buccos will have no problems achieving their record 20th straight losing season, given their opening day starter is Erik Bedard and their other offseason acquisition was A.J. Burnett. The last time this team was good, Bill Clinton was running for president.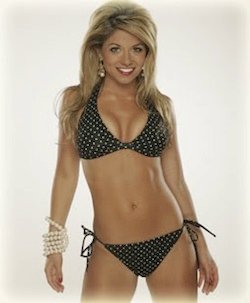 5. THE NATIONALS MIGHT ACTUALLY BE DECENT
The Washington Nationals have spent most of their existence in the nation's capital as an afterthought, but this year the Nats could actually make some noise in the NL East thanks to a host of talented young players, including Stephen Strasburg and the potential summer arrival of brash outfielder Bryce Harper. Plus, how can you not root for a team whose sideline reporter looks like this?
6. THE WINDY CITY BLOWS
It's going to be a long summer in Chicago, where both the Cubs and White Sox are going to be terrible. New Cubs GM Theo Epstein will need a few summers to get his sabermetric groove on with the Cubs, and new Sox manager Robin Ventura has nowhere to go but up since the two most memorable things about his otherwise very respectable playing career were a horrific ankle injury (a compound fracture that twisted his foot around 180 degrees as he slid into home) and a legendary beat down by the much older Nolan Ryan. At least Chicago baseball fans can drown their sorrows in Old Style.