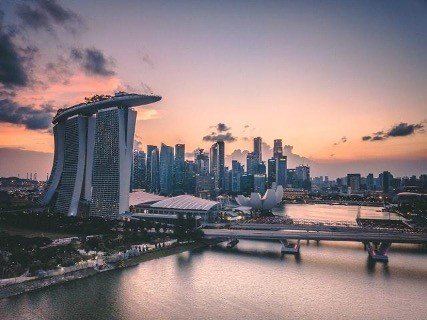 Singapore and Hong Kong governments are sitting around a table again due to the postponed travel bubble (Hong Kong Singapore Travel Bubble), with both cities trying to consider extra safeguards concerning the Coronavirus pandemic. A certain government suggested that authorities on both sides spent hours in discussion over the new arrangements. This air travel was meant to boost tourism in both cities but sadly, it was delayed for at least two weeks. The new arrangements being made are meant to allow travelers from both cities entry without quarantine provided they complete all COVID-19 tests before arrival and after at their landing place and fly on designated flights.
A body under Hong Kong Commerce and Economic Development, known as the Hong Kong's tourism commission stated that it is due to the outbreak in Hong Kong that the air travel bubble had been delayed and that the governments of both cities have been in close discussions over the matter. Singapore has established the same travel bubbles as Hong Kong to enable all restrictive control measures. On the other hand, Singapore is ready to allow short-term travelers coming from Hong Kong under a program called Air Travel Pass(ATP). Besides, the Singapore-Hong Kong travel bubble is said to begin with only one flight a day into each of both cities taking a minimum number of 200 passengers, this method will increase to two flights per day.
Those flying from Hong Kong to Singapore
All short-term visitors who are applicants from Hong Kong will have to apply for an Air Travel Pass to enable them to enter Singapore. Applicants are encouraged to visit the Air Travel Pass(ATP) website to apply. Applicants should note that applications have to be made between seven and thirty days before entry into Singapore. Besides, all travelers must remain in Hong Kong for at least 14 days before they depart. When the Air Travel Pass is approved, an approval letter will be sent to all applicants via their email addresses, which must be read and shown to the immigration authorities on arrival. This Air Travel Pass will be valid from the date of entry to seven days after. Travelers should also note that they can only obtain a Visa card if only they have acquired the Air Travel Pass (ATP).
The Pre-departure requirements in Singapore
First and foremost! Before traveling to Singapore, all applicants must undergo a Coronavirus test and not less than 72 hours before departure. These tests must be carried out in a laboratory or a testing institution recognized by the Hong Kong government which can be found there. The certificate must confirm that the traveler was tested negative for the disease. Thereafter, the travelers must book flight tickets recognized and designated by Singaporean and the Hong Kong governments which are;
(Inaugural flight) November 22/2020
·CX759 (HKG-SIG) is operated by Cathay Pacific Airways.
        From November onwards
·CX759 (HKG-SIG) is operated by Cathay Pacific Airways.
Visitors should also note that they will not be guaranteed flight tickets on the above-mentioned flights regardless of having their Air Travel Pass approval. Travelers will be responsible for obtaining their flight tickets. They must download and submit the appropriate SG Arrival Card, which will give details concerning the applicant's health and their history of travel, and the accommodation place while in Singapore. Travelers are requested to the Trace Together app, smartly and well designed to help in tracing contacts. In Hong Kong at check-in, Travelers/visitors must have the below documents ready;
·An Air Travel Pass(ATP) approval letter.
·(If applicable) a Visa.
·A PCR test result certificate of COVID-19.
·Downloaded on a mobile device, the Trace Together app.
Arrival in Singapore and staying
Travelers/visitors must present the above-mentioned items to the immigration officials immediately when they arrive in Singapore. In the course of their stay, visitors must adhere to prevailing healthcare instructions, which include; wearing masks, washing their hands under running water, and maintaining social distance. They must ensure that the Trace Together app is activated throughout their stay in Singapore, as well as up to 14 days after departing the country. In case the traveler contracts Coronavirus while still in Singapore, He/She is expected to bear full costs of all treatments and isolation imposed by the healthcare officials in Singapore.
Traveling from Singapore to Hong Kong
Travelers eligible to travel to Singapore must stay in Hong Kong for 14 days before their departure on a designated flight. Other permit holders or S pass permit holders, given by the Singaporean Ministry of manpower are not eligible to fly to Hong Kong under the arrangement.
The pre-departure requirements
Before departure, travelers/visitors should apply for a visa (if necessary) and must undergo a COVID-19 test in a laboratory or health institution designated by the government and not more than 72 hours before departure. The applicants are then expected to submit an online health confirmation form, which generates a QR code. This QR code is valid for 24 hours and is scanned upon arrival in Hong Kong.
Applicants should then pre-pay and book another COVID-19 test which is done upon arrival in Hong Kong, thus, more details and information can be found here. Once completed, the system generates another and a different QR code. Travelers/visitors must present the following items and documents during check-in at Singapore Changi Airport;
·The QR code showing health declaration.
·A visa( if necessary).
·COVID-19 PCR test results certificates
·A QR code for the COVID-19 post-arrival tests booking.
Arrival in Hong Kong and Stay
Once arrived in Hong Kong, all travelers must again undergo another COVID-19 test whose results will have to be waited for at the airport. The process is not supposed to take longer than 4 to 5 hours then thereafter the travelers/visitors will be notified by SMS or through their email addresses. All travelers are asked to obey and abide by respecting all health protocols set by the Hong Kong government not only once, but ALWAYS.