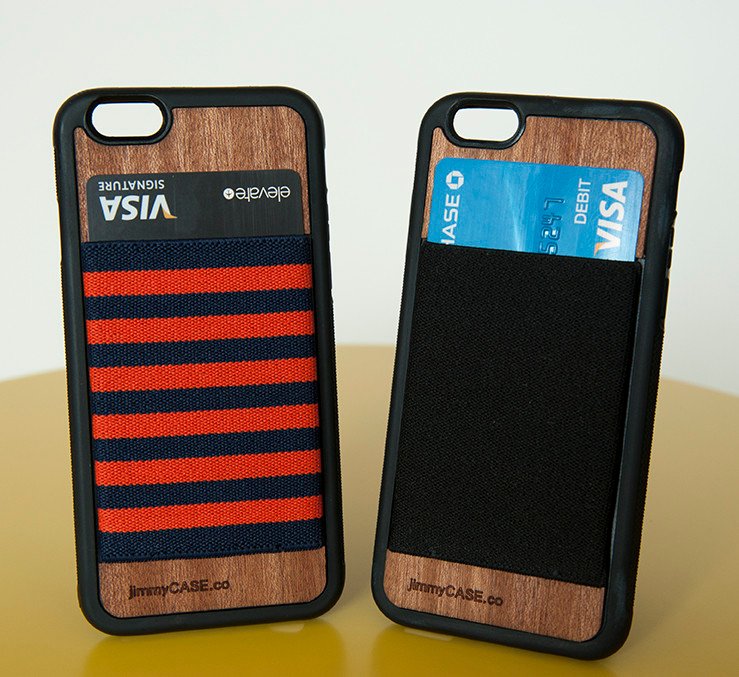 If you spend more than $0 for your smartphone you'd be  a nitwit not to invest in a worthwhile case to protect your device. And if you're fighting the good fight against  pocket bulk (and the reduction of phantom boners that comes with pocket bulk elimination) you'll want to get yourself a slim wallet. Or you can give the jimmyCASE ($40 @ thejimmycase.com) — a wallet and smartphone case —a chance.
Each jimmmyCASE is handmade in the USA! USA! USA! — which we love. We also like how the cases look and safely house iPhones and Samsung model smartphones with a mahogany core and a silicone outer layer that serves a bumper between your device and the unforgiving ground.  As a phone case, the jimmyCASE is a solid pick. Would we ditch our wallet for it? Probably not.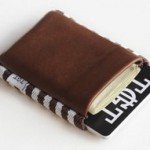 While there's room to slip in six cards and some cash — we slid a debit card, credit card, license, metro card, insurance card and three $20s — we had an issue when the bills were broken. The wallet is a piece of elastic that's similar to the Cowman 2.0 slim wallet (see left), except the Cowman 2.0 has a separate leather pouch specifically for cash. Not having a designated place to store change when we broke bills pushed the money into our pocket, creating the very pocket bulk we were so eager to give up. Depression set in and now we're pondering our lonely existence. *raises fist skyward* "POCKET BULK!!!"
That said,  at no time did we fear our cards or cash were in danger of falling out of the jimmyCASE.  Our issue was solely space-related, and it's something that wouldn't affect someone who doesn't carry cash. We make a point to always have cash on us — at least $4,000 $50, so as much as we dig the case, we wouldn't use it all of the time.
Next Article: Sweet! A Pocket Knife That Fits Into Your Wallet!
 jimmyCASE photos taken by Erica Schultz.