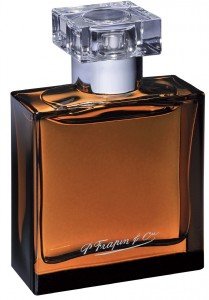 1697 ABSOLU DE PARFUM by FRAPIN ($225)
Created by Cognac producer House of Frapin, the supposedly unisex 1697 — it's the year Frapin received its coat of arms from Louis XV — is the latest in the brand's line of colognes. But with butch notes of wood, rum caramel, warm spices, vanilla, and grass, it's most certainly a man's scent.

&
BLEU DE CHANEL COLOGNE ($80 for 3.4 oz.)
The new men's eau de toilette from Chanel might come in a somewhat generic-looking package, but the clean scent is the distinctive result of ingredients like nutmeg, ginger, sandalwood, and mint. The scent is woody and citrusy, and assuming you don't bathe in Bleu, it won't overpower anyone no matter how close they get to you.