ATLANTA BRAVES | TURNER FIELD | ATLANTA, GA
Besides a good mugging, you're not going to find a whole lot within walking distance of Turner Field except The Bullpen Rib House. The food doesn't receive rave reviews, but they serve beer and have a bunch of TVs in the bar if you want to watch highlights of the game you just watched live.
Backup Bar: With its slick industrial design, scrolling ticker displays, and more than 70 HDTVs, STATS restaurant and bar downtown is what getting drunk on the set of SportsCenter must be like. It also has a roof deck in case you feel like hanging out in Atlanta's one billion percent humidity. Still, tables that have their own private, self-serve beer taps? We're in.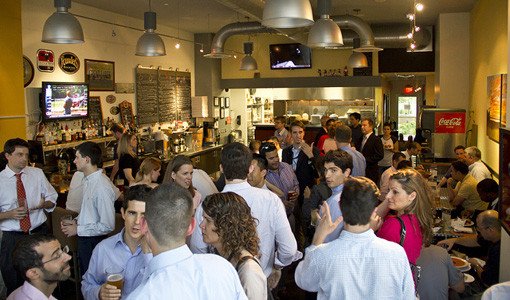 WASHINGTON NATIONALS | NATIONALS PARK | WASHINGTON, DC
Nationals Park opened in the neighborhood of Anacostia — for years one of the scariest hoods in DC, which had plenty of scary hoods — just in time for the bleakest economic climate in 80 years. So neighborhood development has been as slow as Drew Storen's recovery from elbow surgery. That makes Justin's Café about the only (other) game in (this part of) town, offering a graduated happy hour that gets more expensive the closer you get to the first pitch.
Backup Bar: The tailgating scene of The Bullpen, a converted parking lot/fairgrounds across from the center field gates, is light on personality, but heavy on beers, brats, and bros.