As CBD increases in popularity, so too does the number of ways to take it. CBD gummies remain one of the most popular products, for obvious reasons. Primarily, CBD gummies taste delicious and provide a discrete, pre-measured dose of cannabidiol. There's no better way to stay motivated with your CBD routine!
In the UK, there are now plenty of options for consumers who love gummies. The myriad of brands can complicate matters, though, as it gives you more choices than you know what to do with.
That's what we're here for! Below, we cover five of the best products if you're looking to buy CBD gummies in the UK.
Choosing the Best CBD Gummies UK
First, let's talk about some things you need to know before purchasing CBD products. CBD is permitted in the UK, but only if made from hemp. Similarly, all UK CBD gummies must contain less than 0.2% THC.
One of the main things to look out for when buying CBD gummies in Britain is lab reports. Reputable sellers will test their products and publish the results, proving that their products not only contain the right amount of cannabidiol, but also that they contain minimal THC.
If you buy a safe and trustworthy product, you should have a pleasant CBD experience with no intoxicating effects.
Other things to look out for include:
· Affordability
· Potency
· Taste
· Ingredients
#1 – Provacan CBD Gummies
If you're looking for quality, then Provacan is your best bet. This brand is partnered with research firm CiiTECH to bring its customers the latest in CBD research.
Provacan's CBD gummies are vegan-friendly, made with fruit pectin so that everyone can enjoy them. They come in a delicious mixed fruit flavor, achieved with natural ingredients. Plus, each gummy contains 10mg of Provacan's top-quality CBD.
This brand sells two options: A 10-count jar and a 50-count jar. The former is perfect for those dipping their toes into the world of CBD gummies, while the latter is ideal for regular users.
With a reasonable price point, transparent lab reports, and a delicious flavour, Provacan sells the best CBD gummies in the UK – without a doubt!
#2 – CBDfx CBD Gummies
Although an American brand, CBDfx has a UK branch catering to Britain. All of the products, of course, contain less than 0.2% THC.
CBDfx has taken a unique approach to CBD gummies, infusing them with health-boosting ingredients. Not only do you get a burst of delicious flavor, but you also receive an array of health benefits.
The range includes the following:
· Mixed Berry
· Turmeric and Spirulina
· Chamomile and Passionflower (for sleep)
· Apple Cider Vinegar
· Biotin
· Women's multivitamin
· Men's multivitamin
CBDfx also provides a range of strengths and sizes.
#3 – CBDistillery CBD Gummies
CBDistillery is another brand selling vegan-friendly gummies. However, this brand has opted for pure CBD isolate, providing reassurance for those looking to avoid THC. CBDistillery uses natural flavorings to create a tasty mixed fruit combination.
Each CBDistillery gummy contains 30mg of CBD, providing an ideal daily dose. They come in a resealable tub of 25 gummies.
CBDistillery also has a Nighttime Gummies option with an added 1.5mg of melatonin per gummy. These are ideal if you struggle settling down to sleep in the evening. But, better than a sleeping pill, they're delicious and sugar-free!
#4 – ZenBears CBD Gummies
This brand is all about CBD gummies. These cute gummy bears are vegan-friendly and gluten-free, providing a tasty CBD dose for all diets. The brand uses organic farming practices in Oregon, USA, and employs a CO2 extraction process.
The gummies contain 20mg each, which is a healthy dose for new or moderate CBD users. They come in a jar of 30 gummies, lasting a whole month if you use one per day.
By the way, the ZenBears brand provides easily accessible lab reports on the website to prove the quality of these CBD gummy bears.
#5 – Blessed CBD Gummies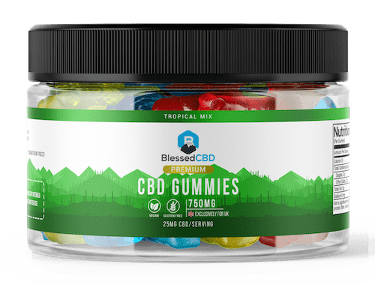 Blessed CBD is a UK-based, family-run brand. It sells gummies with 25mg of CBD each, in delicious, tropical flavors. With 30 gummies per pack, that's 750mg of CBD in total.
The Blessed CBD gummies rank highly in the public opinion, with a variety of publications listing them as their favorite gummies. These gummies are vegan-friendly and use all-natural ingredients, much like the others on the market.
Unfortunately, the Blessed CBD gummies are more expensive than other options, but they remain popular.