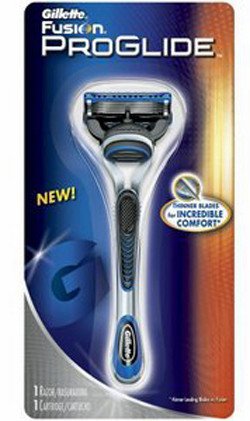 HIGHER-END RAZORS
Gillette Fusion ProGlide vs. DSC Executive
The Gillette Fusion ProGlide is arguably the highest rated — and most expensive — safety razor available at grocery and drug stores. A handle with one blade runs you $9.74 (plus $5.14 for shipping) on Amazon. Add $41.89 for a 12-pack of replacement blades and you're looking at a cost-per-blade of $4.37. You can use one blade about 12 times, making for a cost-per-use of $0.36 and an effective monthly cost of $5.46.
The DSC Executive features six-blade heads and includes three blade changes for $9 per month. For you math majors, that's $3 per blade and $0.60 per use. The bi-monthly membership offers even greater savings, but we didn't find that the blades lasted any longer than the 4X, so you'd have to shave less for it to be more economical.
Results
It's a tie. The Fusion ProGlide felt a little awkward in the hand, but it offers a great shave. It was also the only market razor to score better than a DSC blade on the "Wife Test." That's when Dan used each competing razor to shave one side of his face, then asked his lovely wife to determine which side had the smoother finish. The DSC Executive comes with a cool weighted handle, but is more sizzle than steak. And after the fourth shave we detected blade dullness. Plus, it comes in at a higher cost margin than the other DSC blades.
Tips and tricks for avoiding razor burn, nicks, and cuts
Shaving can be a challenging task – but don't let razor burn, nicks, and cuts put a damper on your morning routine! For the smoothest shave ever, start by showering with warm water: heat helps to soften the skin and open pores.
Next, exfoliate to remove dead skin cells and unclog your follicles. Then, lather up with a quality shaving cream or gel. Using a sharp blade will help you get a close shave without irritating the skin; replacing blades often is the key to preventing unnecessary discomfort.
Be sure to rinse after each swipe of the razor; this will help keep it free of hair clippings which could cause irritation. When you're finished, use an after shave balm or lotion for optimal smoothness and comfort.
Following these tips and tricks can keep your shaving session fresh and comfortable – no more redness or bleeds!