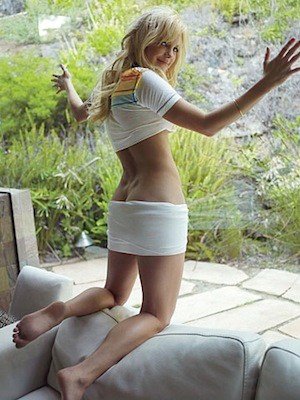 So that's what happens once you've been married awhile.
[Laughs] Now that we're married, yes, instead of sexual favors she makes me fix the closet door, which was hanging off the hinge. And wash her car. It's a barter system around the house.
Were you on set when Anna shot her love scene?
Oh no, I most certainly was not on set. I don't think it would necessarily be that weird for me, but that's an intimate situation, and any time I'm doing a love scene or she's doing a love scene, we would never come on set. Not that it would be so weird for us, but I wouldn't have wanted to put Chris in that situation where he's kissing Anna and aware that Anna's husband is there. And Anna wouldn't wanna do that with, say, Aubrey Plaza, who plays my wife on Parks and Rec. It's just a professional courtesy that if there's a love scene, you let the people do it without a spouse being around. It's your obligation to do everything you can to make the other person as comfortable as possible when doing scenes that involve intimacy.
You don't ever feel a twinge of jealousy on days when she's doing love scenes?
No … maybe … I don't think so. I mean the right answer should be, "Yes, I wanna rip the heads off those guys!" But the truth is because I'm an actor, I understand what it's like to be put in that situation, and I understand how meaningless it is. I find comfort in knowing that I've been in that situation and it doesn't make me feel like I was doing anything wrong. We've both been through it and understand  that it's just something we have to do.
So, uh, just between the two of us, can you tell us the number of people you've slept with?
I always get this wrong, but it's either seven or eight … hundred thousand.
…
Okay, it's not that high.
Are you secure with your number, whatever it is?
Yeah. I had a pretty wild ride in my 20s.
You wear a fat suit in a flashback scene. Were you ever fat?
No, not really. The fattest I've been was on Parks and Recreation. I think my character in What's Your Number was probably close to 400 lbs. That fat suit was amazing.
But you actually lost about 40 pounds for the other movie you're starring in, Moneyball. How tough was that?
I had about three or four months to do it, so I cut out all alcohol, carbs, sugar, and salt. And I ran a lot. I was losing weight anyway because I was training for the baseball scenes. But I also had a personal trainer — I did it the old-fashioned way: I was hungry, and I worked out a lot. It's the sh!tty reality of it if you want to be skinny. You have to go hungry and be miserable and run. I recommend nobody do it.