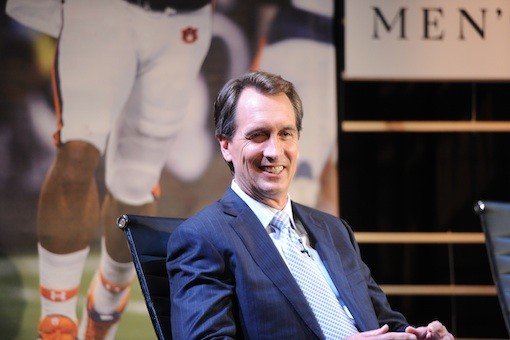 NBC's Cris Collinsworth is a former NFL Pro-Bowl wide receiver and two-time Emmy-winning football analyst. He's also a nice guy who rarely sensors himself, which sometimes gets him in trouble. (More on that later.) And that makes us like him even more.
Collinsworth is preparing to broadcast the NFL season opener between the New Orleans Saints and Green Bay Packers this Thursday. Even though he probably should have been resting his vocal chords in preparation for having to repeatedly explain why Aaron Rodgers & Co. are shredding Saints defenders, Collinsworth was nice enough to sit down with us and talk some football.
There was a flurry of NFL trades and signings after the lockout ended; which team do you think made the best moves?
Philadelphia. They have stunned everybody. As much as guys want money, they also want to win a ring. And when [former Oakland Raiders cornerback] Nnamdi Asomugha, who was sort of the top free agent out there, signed with Philadelphia, then the other guys fell in line. Mike Vick will be back along with the tremendous talent that the Eagles have on offense — it's already a Super Bowl-level offense — but now the team has some defensive weapons too.
Can the Pats really turn around Albert Haynesworth?
That's a great question. Albert is an interesting character. Can the Patriots turn him around? I don't think so. Can Bill Belichick turn him around? Maybe. When I saw Chad Ochocinco in khakis and a Ralph Lauren jacket the other day, well, I thought Belicheck must have a magic wand! People want to play for a championship. So they are willing to make personal sacrifices both financially and with what they do off the field in order to get a chance to play on that team. I think Chad will do anything to make sure he doesn't mess up the opportunity.
How long is Randy Moss going to stay retired?
I think he might stay retired. He's made enough money to where he is not going to be a discount player; he is not going to come back and sacrifice his body for a small amount of money. And based on what he did last year, he is not going to make big bucks. He is going to have to come prove himself, and I'm not sure he is going to be willing to do that. Although I've heard that he's in fantastic shape. Apparently, the Patriots don't want him, so ideally he'd show up in a Jets uniform for a discounted price.
Speaking of the Jets, what's your over/under for the number of times Coach Rex Ryan does something he probably shouldn't do this season?
That falls under the "every day" category. Rex is sorta like me [Uh… —Ed.] in that he's often thinking, "I really wish I hadn't said that! I really wish I hadn't done that!" We have made a pretty nice living off our mistakes so what the hell, we'll keep doing them.
Are all the rules changes justified in order to protect players? Or are they making the game too soft? Or is the truth somewhere in the middle?
Definitely not too soft. I'm a dad; I have two sons, one in college, one in high school. There is no denying the concussion issue is going to be a major factor. I am really proud of the commissioner — he stuck to his guns on this one. There are some players who are so mad and irate at the rules that have been instituted and the fines that have been implemented to protect against head injuries and concussions. But the commissioner is right. It's going to save lives. Inevitably, somebody would have had an incident, which would have forced these changes anyway.
Who is the funnier Manning: Peyton or Eli? Archie is also an acceptable answer.
Peyton is a unique guy. If he would have been a New York City quarterback instead of Eli, he would be King Kong in the world of sports media right now.
If Brett Favre ends up backing up Michael Vick this season like some maniacs have suggested might happen, would the entire city of Philadelphia disappear in a singularity of sports media coverage?
I think Vick is almost an old story now.
So no disappearance then? Bummer. Do you think the NFL will be able to bounce back from the devastating loss of this year's Hall of Fame game?
Yes. We love doing it, it's fun. But the loss is not relevant. It's a nice showcase for the induction ceremonies.
Okay, you knew this was coming: Who ya got beating whom in the Super Bowl?
If I had to pick right now, I would pick the Packers and the Patriots. But it's tough. The AFC is just so good. I can name eight teams that I feel have a real chance. It's going to be a great season.