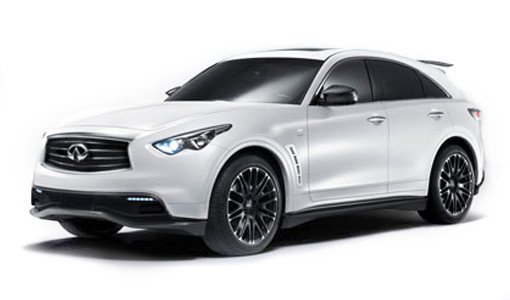 2012 INFINITI FX | $43,700
Now in its second generation — we've loved it ever since it debuted back in 2003 — the FX's mission from day one has been to bring concept-car styling to the street. Flaunting eye-catching curves and available 21-inch wheels, the FX handles in the twisties as well as almost any other CUV on the road — and better than a ton of smaller vehicles as well. Due to its relatively small amount of storage room and stiffer suspension, it may not be the ideal CUV for someone looking for a family truckster. But hey, sometimes you need to do some things for you — like upgrading from the V6-powered FX35 to the pricier FX50 and its 390-hp V8 power plant!

2012 VOLKSWAGEN TOUAREG TDI | $46,875
You pay a lot, but you also get a lot; the Touareg — man, we will never get used to spelling that — platform was co-engineered with Porsche and is also used in the Cayenne, and the Porsche badge costs significantly more. As usual, VW does a great job with the interior, which boasts high-quality materials and an extremely comfortable backseat. Though the Toureg may not handle quite as well as its Porsche cousin, it's still a lot of fun to drive, especially considering its size. And the TDI diesel engine provides great low-end torque.