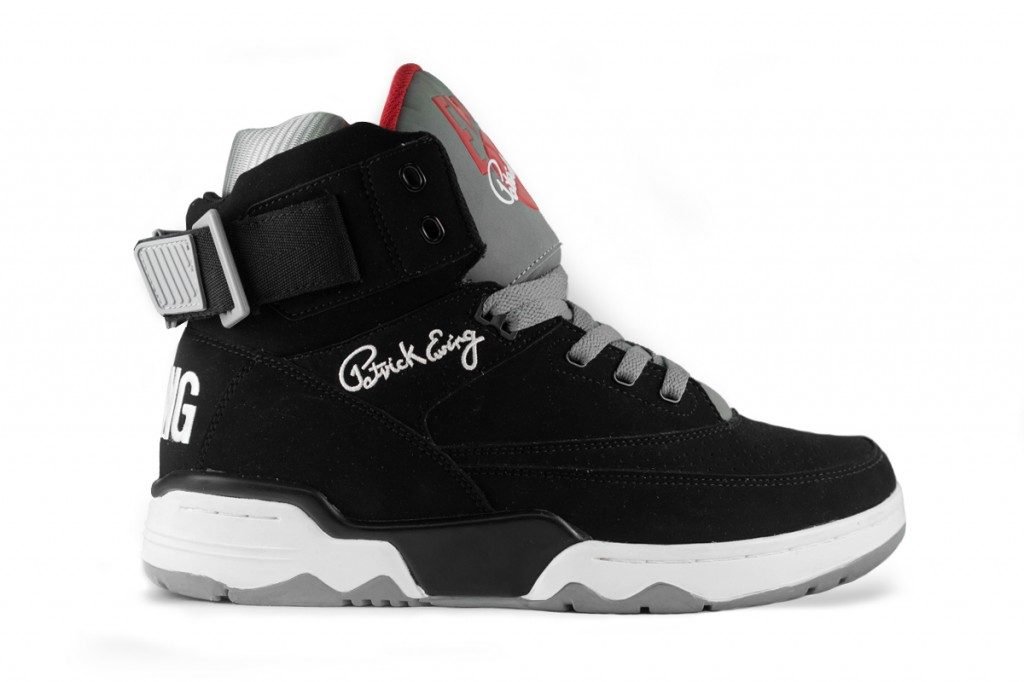 During his 15-year, Hall-of-Fame NBA career, New York Knicks center and ModernMan favorite Patrick Ewing blocked 2,894 shots, had 2,215 assists, and made 19 three-pointers (seriously). He also wore a lot of basketball shoes. (Ewing reportedly despised playing in bare feet because Charles Oakley would mercilessly ridicule his toenails.) Ewing founded his own brand of footwear in 1989, but it went bust in the mid-1990s. Well, for the past few years, it's been back.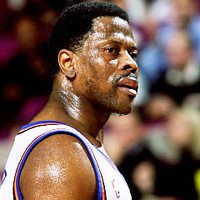 The 33 Hi 2012 Retro basketball sneakers (above) were the first official release from Ewing Athletics. There have been plenty of other cool options since (check them out here.) The leather and suede kicks will come in four original color schemes, including white/blue/orange and blue/orange/white, both nods to the Knicks. The shoes will feature the same boxy look and cross straps as the ones Ewing wore while dominating the boards and creating massive pools of sweat on the court during his heyday. And in case you forget, Ewing was nice enough to stamp EWING and 33 on the backs of the shoes in gigantic letters, and autograph them on the side. You can pick up a pair for $100.
A Brief History on Patrick Ewing and His Kicks
Patrick Ewing was born in Kingston (Jamaica) on August 5, 1962. His father, Carl Ewing, was as a mechanic and his, mother Dorothy Ewing, was a stay-at-home mom, raising the Ewing family's 7 kids. Ewing's family immigrated to the US. Ewing moved there when he was 11. He lived in Cambridge, Massachusetts.
In his youth, Ewing always showed a talent for sports, most particularly cricket and soccer. Eventually, he stepped onto a basketball and mastered the game having played regularly in the neighborhood court with other kids. By the time he was 12 years old, Ewing already grew to a staggering 6'6″, and that, of course, steered him towards basketball more than any other game.
As a college student, Ewing attended the University of Georgetown, and while there, he became a US citizen. During his first year at Georgetown U.  he was instrumental in helping the Hoyas win the NCAA championship, which brought him a lot of recognition as well as the title of 'Outstanding Player' of the entire tournament. His US citizenship finally meant that he could join the United States Men's Olympic basketball team in the 1984 summer games in LA. At the time, the team had Michael Jordan, Charles Barkley, and Sam Perkins, as well as many other greats, who played brilliantly and earned the gold medal for the United States.
Patrick Ewing's NBA Career
The successful streak during his NCAA years and the gold medal at the Olympics turned Ewing into one of the most sought after players. After the Draft Lottery, it was the New York Knicks who picked up Ewing right off the bat. Despite multiple injuries which he sustained throughout the first season in the league, Ewing earned NBA's Rookie of the Year title, having scored an average of 20 points, 9 rebounds and 2 blocks per game.
Ewing went on to play for the NY Knicks for over 15 years and was named NBA All-Star 11 times. He made it to the All-NBA First Team and Second Team, in addition to being a member of the original "Dream Team" (Olympic Games, 1992). Come the year 2000, he was traded to the Seattle SuperSonics where he played for one season, after which he joined the Orlando Magic. He retired in 2002, and is now an assistant coach for the Charlotte Bobcats.
Patrick Ewing's Shoes
Sometime during the late 80s, when he was blossoming as the center for the New York Knicks, Ewing pulled off a pretty cool marketing stunt, hinting the launch of a company called Ewing Athletics. This move officially made him the first professional basketball player to own a majority of a company. The cool move was that he stepped onto the basketball court wearing unbranded shoes – completely white, without any label whatsoever. Such a thing was practically unheard of – a pro player making an appearance with shoes that have no recognizable label. The concept behind that was to peek the crowd's curiosity, which sure as hell happened. Nobody knew what the hell was going on and everyone wondered and talked about it. The idea originates from Ewing's agent David Falk, and judging from the amount of attention this stunt received, it freakin' worked.
Before this stunt (a few years back) Patrick did have the traditional Knicks-themed orange-and-blue Adidas shoes, but this was different. The trouble is, by 1989 the sneakers market had been taken by storm with the appearance of Air Jordan. Meanwhile, even though he was sitting on a $1 million-a-year contract, Ewing left Adidas because the company was in a lousy state at the time. Ewing Athletics finally had something to give to the shoe industry and it was called the Rebound model, but that was literally nothing compared to the success which came with the launch of the 33 Hi – a name given after Patrick's Jersey number. As the year 1990 hit, so did Ewing Athletics' 33 Hi model. According to Falk, the shoe garnered approximately $100 million in sales.
Why People Still Love His Shoes Today
A big reason why people still love Patrick Ewing's shoes is because they remind them of simpler times. Before all the fancy technologies we have now like sensors and air pockets, there was just good old fashioned comfort for your feet when wearing these shoes. They were also fashionable back then—and they continue to be fashionable now! With their bright colors and bold designs, these shoes are perfect for anyone who wants to stand out from the crowd while playing some b-ball or just looking good on their way down Main Street.
After such a rich history, Patrick Ewing's retro sneaker marks a return this winter, boasting new models; specifically two all-new looks for the 33 Hi and one for the 33 Mid. You can snatch the shoes at various retailers or over at EwingAthletics.com.