Are you ready to ask the most important question of your life? Well, we know how important it is to you to get the answer you want. And how special you want the occasion to be.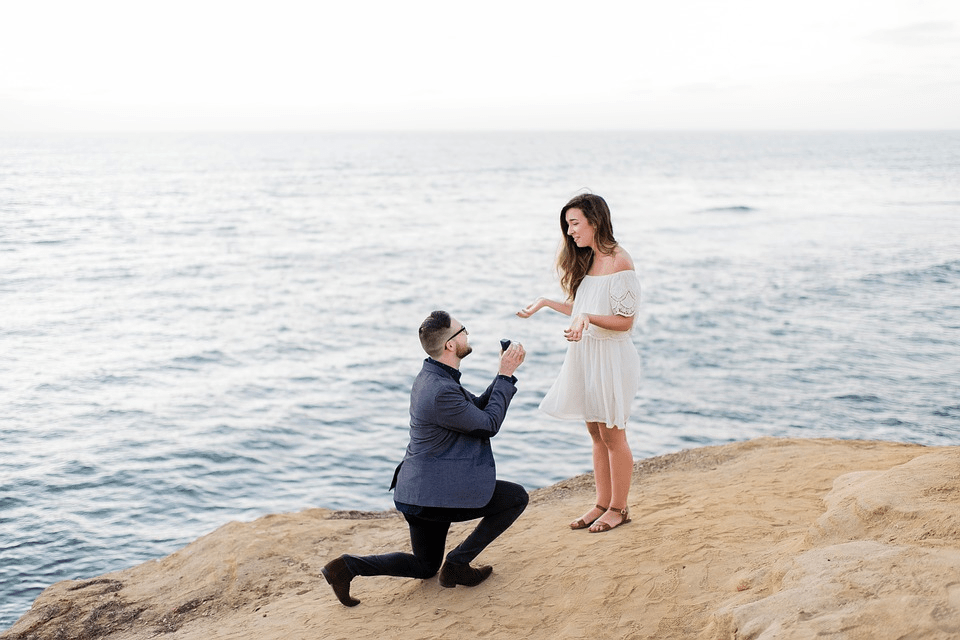 If you want to sweep her off her feet, the setting is of the ultimate importance. So we've rounded up 5 incredible options to inspire you, in our extravagant proposal ideas to get the "yes", below.
Play Your Part
If you and your partner love to attend the theater, this next idea will steal the show. Contact the theater company and meet with all involved to arrange it. But with such a novel idea for a proposal, who could say no? But be sure to choose a theater show that is fitting the occasion.
Arrange beforehand for the performers to pause briefly at a significant moment during the play or performance. At that moment you will bound onto the stage and, looking out to where your by now very surprised significant other is seated, pop the question.
With as much showmanship as possible, of course. That is one show that she will never forget.
Propose On A Yacht
There's something very romantic about being out on the water. Especially at night, under the moonlight and starry sky, with the city lights glittering in the distance. A yacht rental in NYC can offer you a beautiful opportunity to pop the question.
Whether you choose a sailboat or a yacht, a private trip around the bay or a mini cruise with a group of close friends, is up to you. But as you have the option of a skipper, you can leave the work of piloting the vessel up to your captain, while you concentrate on getting that "yes".
Start with a "yacht party" with your close friends, and incorporate your proposal into the evening. As soon as you get that "yes", it becomes an engagement party. Be sure to have enough champagne on hand.
Write Her Name In The Sky
This is surprisingly easy to arrange but has a major impact. A big impact means a big "yes". Ask the love of your life to marry you by hiring an airplane banner service to fly overhead at your outdoor get-together with family and friends.
An airplane banner can be personalized in all sorts of ways, and it isn't that difficult to get them to look up at the sky at the right moment. "Oh. look up there, what on Earth is that?" you could exclaim, pointing upward.
If you have informed your guests beforehand and can trust them to keep the secret long enough, that simple get-together will transform into an engagement celebration right before your love's eyes.
Get Back to Nature
This one is for all you nature lovers out there. You don't have to go too far to be extravagant. It's the surroundings that count, and this next one will definitely impress.
Tucked away into Hocking Hills in Ohio, Ash Cave is a 100-ft deep piece of paradise. Ash Cave is one of seven hiking trails of Hocking Hills State Park in Southern Ohio. The trail is about half a mile long, takes about 40 minutes to hike, and the park is open year-round from sunrise to sunset.
Ask your beloved to go on a hike with you, passing through a gorge lined with beech trees, culminating in your arrival at Ash Cave. Surrounded by the beauty of the outdoors, with the gentle sounds of a seasonal waterfall as your background music, pop the question.
This is also one of our choices for a unique destination for a dream wedding that guests will be talking about for years.
Take Her Breath Away In Tahiti
Have you been wanting to go on a romantic trip together? Then a romantic island getaway is already on the cards. And for a spot to propose that's as pretty as a postcard, you can't beat Tahiti. Picture this…
Treat your loved one to some pampering at the Pearl Beach Resort's first-class spa. Once nicely relaxed, go for a swim and relax in the sun on Lafayette beach. It doesn't get too crowded here, and if you wait until the right moment, you'll have the perfect opportunity as the sun is just starting to set.
Tahiti is hailed as one of the best destinations for a honeymoon. So when the big day arrives, follow it up with a honeymoon in the very place you asked your spouse to marry you. You don't get more romantic than that.