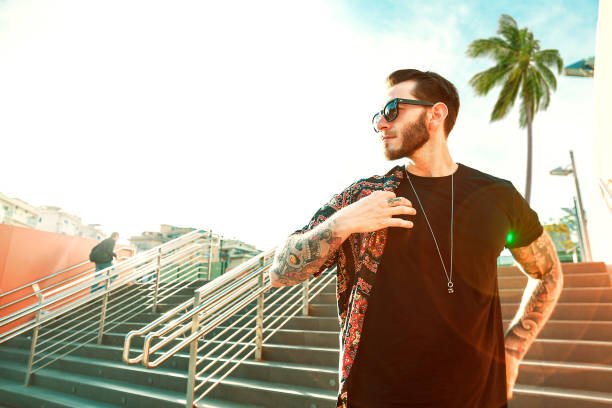 Summer is here, and it's time to give your wardrobe a refreshing makeover. As the temperatures rise, so should your style game. This is the season to ditch the heavy layers and embrace the light, breezy outfits that define summer fashion for men. Whether you're hitting the beach, lounging by the pool, or attending social events, feeling confident and looking your best is crucial. So, let's explore this summer's exciting world of men's fashion trends and discover how you can make a stylish statement while staying comfortable.
Summer Essentials for Working from Home 
Who says you can't look sharp while working remotely? While many of us now have home offices, it doesn't mean we should neglect our style. Opt for lightweight and breathable fabrics like linen or cotton for your work-from-home attire. Embrace casual yet refined pieces such as tailored shorts paired with a crisp short-sleeved shirt or a lightweight blazer. Add some personality with vibrant patterns or fun colors to brighten your Zoom meetings. With this versatile and relaxed style, you'll be ready to tackle your workday while still feeling comfortable and looking effortlessly put together.
Elevating Your Beachwear
Summer wouldn't be complete without a trip to the beach or poolside hangouts. Upgrade your swimwear game with modern and flattering options. Opt for swim trunks that hit just above the knee, showcasing a more tailored and polished look. Experiment with bold prints, tropical patterns, or vibrant solid colors to reflect the vibrant energy of the season. Pair your swim shorts with a stylish linen shirt or a lightweight cotton T-shirt for a casual yet refined beachside look. Remember to complete the outfit with trendy sunglasses and comfortable flip-flops or sandals. You'll exude confidence and style, whether lounging in the sun or enjoying beach activities.
Embracing Relaxed Tailoring
Summer weddings, garden parties, and outdoor events call for a more sophisticated approach to fashion. Ditch the heavy suits and embrace lightweight, breathable fabrics like seersucker or linen. Opt for unstructured blazers or lightweight suit separates in pastel shades or earthy tones for a refined yet relaxed look. Pair them with tailored chinos or dress shorts, and complete the outfit with a crisp dress shirt or a linen button-down. Remember, the key is to strike the right balance between formal and casual, creating a polished ensemble that allows you to beat the heat while still looking sharp.
Cool and Comfortable Footwear for Active Days
If you find yourself standing or walking often during the scorching summer days, investing in comfortable and stylish footwear is essential. Opt for breathable sneakers or loafers that provide excellent support and allow your feet to breathe. Consider trying men's colorful shoes like sneakers in vibrant shades, which will effortlessly elevate your outfits. Pair them with tailored shorts or lightweight chinos, and you'll be ready to conquer anything the day throws. Whether exploring the city, attending outdoor events, or simply enjoying a casual day out, these stylish and comfortable shoes will keep you on your feet with flair.
Embracing Light Fabrics and Linen
When the temperature rises, it's time to switch to lighter fabrics. Linen, the quintessential summer fabric, offers exceptional breathability and comfort. Invest in linen shirts, trousers, or suits to beat the heat in style. Linen shirts paired with tailored shorts or lightweight trousers create a relaxed yet refined look. Experiment with pastel shades like baby blue, soft pink, or mint green to add a touch of summer freshness to your outfits. Layer a linen blazer over a T-shirt for a more polished ensemble that works for both daytime outings and evening events. Embrace the natural texture and wrinkles of linen, as they add character and a relaxed vibe to your overall look. This summer, you'll stay cool, comfortable, and effortlessly stylish with linen as your go-to fabric.
Embracing Bold Prints and Patterns
Summer is the perfect time to let your style shine with bold prints and patterns. Experiment with floral prints, tropical motifs, or geometric designs to elevate your outfits. Incorporate these patterns into your shirts, shorts, or accessories for a playful and eye-catching look. Pair a patterned shirt with solid-colored shorts or vice versa to strike the right balance and avoid overwhelming your ensemble. These bold prints are ideal for casual gatherings, rooftop parties, or even a night out with friends. Embrace your adventurous side and turn heads with your confident, stylish summer look.
Summer Accessories for the Finishing Touch
Complete your summer outfits with the right accessories to elevate your style. Start with a fashionable watch that complements your overall aesthetic, whether a classic leather strap or a sporty diver's watch. Opt for lightweight and breathable materials like canvas or nylon for your belts, and experiment with woven or braided designs for a laid-back touch. Remember hats, as they protect you from the sun and add a stylish element to your look. Whether it's a classic straw fedora or a trendy bucket hat, find one that suits your personality and the occasion. Finally, invest in a versatile summer bag, such as a canvas tote or a leather backpack, to carry your essentials while exuding practicality and style.
Summer is a season of freedom, adventure, and self-expression; your style should reflect that. By embracing these trends for this summer, you'll look your best and feel confident and ready to seize every opportunity that comes your way. So, step out of your comfort zone, experiment with colors, patterns, and fabrics, and let your summer style make a statement. Remember, fashion is about expressing yourself and having fun, so embrace the season's warmth and dress to impress wherever you go.