If there's one thing we have learned from 2020, it is that comfortable clothing is essential. With so many of us working from home and spending hours on Zoom, suits and ties are out, and practical, comfortable everyday wearables are our go-tos. Lucky for you, we have compiled a list of this years' top fashion brands that are perfect to wear while working from home. These brands are not only comfortable, they are also stylish, made with high-quality fabrics, and will have your coworkers, friends and family asking you where you got your clothes from. Below are five of the top clothing brands that will keep you comfortable and stylish during and after the pandemic.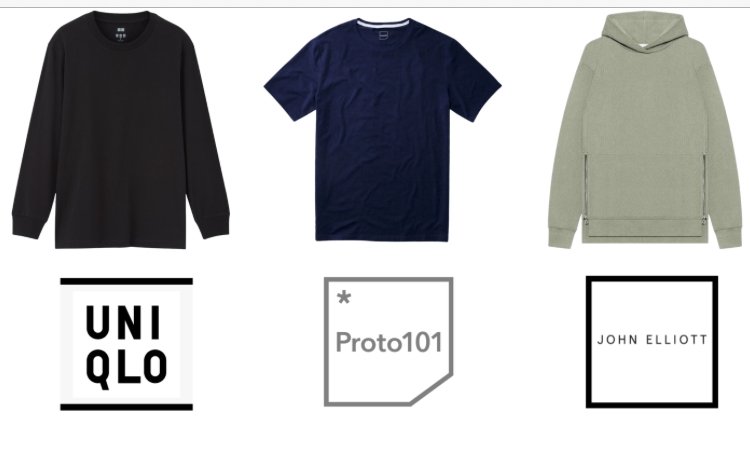 1. Proto101
New kid on the block, Proto101 is upgrading your wardrobe essentials with sustainable clothing and innovative fabrics that you will want to wear on repeat. After decades in the fashion industry, the founders of Proto101 are raising the bar on the fashion industry by designing sustainable, high quality clothing staples with an obsession on fabric and fit.
Made from super-soft, sustainably-grown Supima cotton and TENCEL, their everyWEAR t-shirts are the perfect t-shirts for working-from-home and getting outdoors (and even to bed). Their clothing is designed to be high quality, comfortable, and stylish. For every t-shirt sold, they plant a tree so you can feel good about your environmental impact. Their website currently offers clothing for men, with their women's line launching Summer 2021. Visit their website: https://proto101.com
2. lululemon
Ask anyone who the godfather of athleisure is, and most would agree lululemon pioneered the cross over that made workout clothing into an all-day clothing lifestyle. Boasting both male and female styles, this athletic clothing brand has some of the highest quality performance materials, yet most comfortable clothes on the market.
Fans of lulu are obsessed with their women's Align leggings and men's City Sweat hoodie for those days where you're squeezing in a work-out between meetings. Visit their website: https://shop.lululemon.com
3. Mack Weldon
If you're looking for some of the nicest, yet most comfortable men's every-day wear on the internet, you've probably heard of Mack Weldon. Known for their 18-hour boxers, they also make top-notch lounge wear like the Ace sweatpants, pants that famously look like pants but feel like sweats.
Their simple and updated pieces make it easy to shop and are offered in various neutrals that are made to go with everything in your wardrobe. To shop Mack Weldon, visit: https://mackweldon.com/
4. Uniqlo
Uniqlo Co., Ltd. started as a Japanese casual wear designer, manufacturer and retailer. Now it's a global brand with over 1000 stores around the world. It's known for "redefining clothing, with a focus on quality and textiles which has been un-wavered since the company's origins in 1949" as it says.
What makes Uniqlo so great is its simple, modern designs at affordable prices. Men and women are big fans of Uniqlo's Airism t-shirts that have built in comfort technology making this ideal for work or play. To shop Uniqlo, check out their store at: https://www.uniqlo.com/us/en/home/.
5. John Elliott
The founder, John Elliott, who "took his lifelong obsession with all-things design (he was submitting sneaker redesign ideas to Nike at age eight) has a healthy resume in the fashion industry, and funneled it all into a tightly edited lineup of goods" (GQ).
In fact, they offer high end lounge wear with minimalist designs and great attention to detail with modern fits that appeal to the most well-versed fashionistas. The clothing is surprisingly simple, yet also funky enough to stand out and get you noticed. To shop John Elliott, visit their site at: https://www.johnelliott.com/.
No matter the occasion, these five clothing brands will have you covered when it comes to finding fashionable, yet comfortable clothing. And, when value and comfortability has never been more important, this is huge. Be sure to check out their sites to learn more and shop some of these amazing brands. We promise you won't be disappointed.