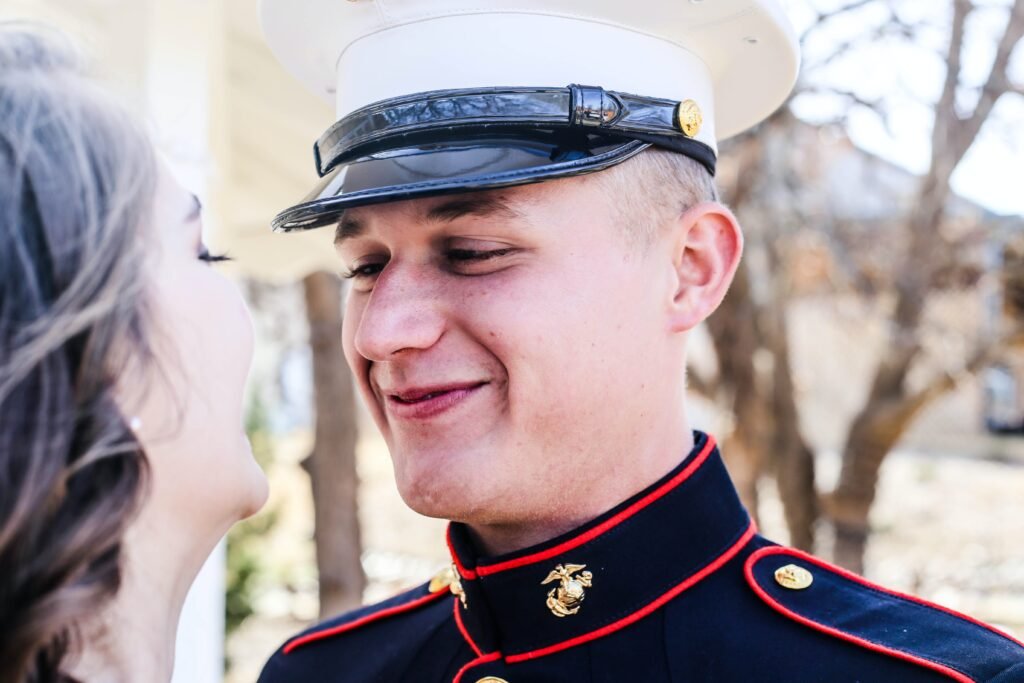 For the perfect wedding, the significance of a wedding outfit cannot be denied. It is one of the integral elements of your big day.
The standard way the couple dresses is that the groom wears a suit and the bride wears a wedding gown/ dress. The wedding outfit's theme might vary due to many factors such as the occupation of the couple or venue, or it might be themed respectively to a special moment or event.
For instance, military officials often ask questions about how they should dress for their wedding. They are conflicted between a usual outfit or a uniform to wear to walk down the aisle. Gentleman's Guru has a plethora of wedding suits and tuxedos to choose from for your big day.
One of their other concerns can be about the civilians attending their wedding and what dress code they should have. Some might have doubts if they should carry their swords and badges as an accessory or not, as they want to tailor a replica of their uniform for the best fit.
How to Dress yourself for a Military Wedding?
To begin with, military weddings can be really astonishing. Sadly, there are only a few who actually go ahead with a military wedding, and stylists and event planners wish there were more military weddings taking place.
What makes a military wedding stunning is the fact that you can wear a uniform to it. It's a once in a lifetime experience you can have.
Clothing Advice for the Groom
To begin with, let's discuss the wedding dressing code for the US Marine Corps. They usually dress in blue, but it also has a white set of clothing. This includes white pants and a blue shirt/ top. Just imagine the breathtaking combination of colors!
The combination of blue and white goes well, especially when the bride is wearing all white. You need to keep in mind that you want your outfit to complement the brides.
Often men who are about to get enlisted or are in the military already dress in green. It looks great as well; it might be a risky choice for a wedding, but green is an ethereal color. It might symbolize an evergreen wedding, an everlasting bond between the couple.
If you plan on wearing green at your wedding, make sure you let the guests know about it so that they can complement the dress code. You can make sure they arrive in a similar uniform as well.
To tailor the perfect fit of your uniform at your wedding, you can check out The Jacket Shop. They are great at what they do with top-notch service.
What Other Factors to Consider?
When buying the uniform, make sure it's not something unique and rare to find. That way, your guests won't be obliged to buy a whole new set of attire that they might never wear again.
One of the best advantages of a military wedding is that you already have the outfit. You don't have to spend extra on buying an outfit, maybe spend some money to fix the attire's fitting.
You can choose to spend the money you save on food, booze, an after-party, or even on your honeymoon.
What Should the Guests Wear to a Military Wedding?
As a pro-tip, nothing can go wrong with dark colors at a wedding. It is simple and classy. And dark colors suit everyone, regardless of anything. However, make sure the temperature is cool enough to wear a dark suit. If it's hot, and if it's an outdoor wedding, it can be quite uncomfortable to enjoy the party.
You can guide the guests beforehand so that they don't mess it up. An odd contrast can look bad for the pictures, and you don't want your wedding pictures to come out bad.
The question is if you should carry your sword with your wedding attire- it can definitely be a great touch to the whole theme of the outfit. It complements your outfit, most importantly, with the theme you're going for.
The sword has a value to you anyway, to begin with; carrying it at your wedding would give it more added importance. If you include it in the significant events of your life, the sword can become an heirloom.
Just think about it. If you look at the sword in the future, it'll just remind you of the good things and milestones of your life. Now, isn't that something you'd want and be proud of?
However, maybe a public display isn't allowed everywhere, so you need to ask for permission from your head of the department and the venue you'd be holding the wedding at.
Make a Saber Arch
You can even ask your fellow course mates to bring their swords along. That way, you can make an arch with the swords. Both you and the bride can walk the aisle under the arch made of swords. This would give off an old English wedding vibe.
There are different ways you can make a saber arch. It depends on if it's an indoor or outdoor wedding.
Event Planner and Stylist
You can hire event planners and stylists if you're in doubt of your choice or want some professional guidelines or approval of your plans for the military wedding.
You can turn the whole wedding military-based, solely because of how you want to dress on that day. Remember, it is vital for a wedding to have a theme, or else it might end up looking like a mess.
You can have your cake, decors, china dish sets based on your military theme. For that, you might need the assistance of a planner; they'd know better about where to get themed decors and food from.
Military Weddings Are Classy
For a couple, their wedding day is significant as it embarks on their beginning. Now, if the military theme is important for you or your significant other, have a talk and go for it.
It's a unique way of getting married, and not to mention it is traditional and gives off a sense of honor and glory.