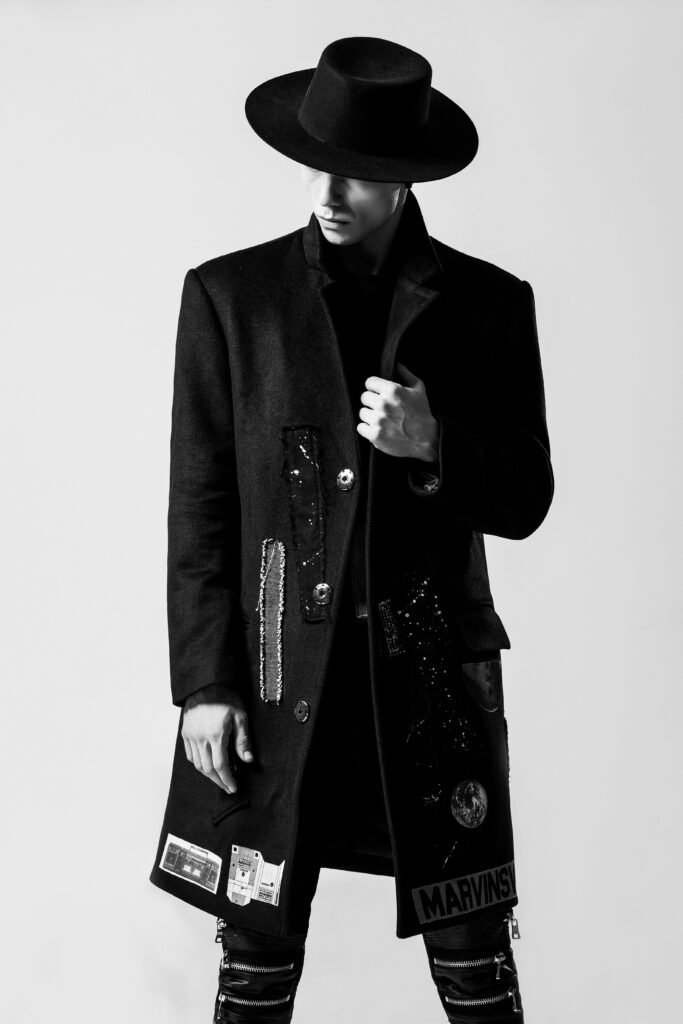 Social media are full of fashion blogs for women, but men's fashion was a somewhat neglected topic for dozens of years. The idea that men should be brutal and absolutely unfashionable was implicated since the World War II when the military outfit was considered the most "fashionable" clothing and later the endless working suits conquered the world, making it almost impossible for a respectable man to wear anything except the "breadwinner costume" in darker and calmer colors with a tie, and classical shoes. Isn't it high time to make some changes?
The sales projections in the UK (that can be considered one of the most conservative countries in the world) show that the women's wear sales have shrunk by 0,2% while the market aimed for men has grown by 0,7%. Women grow tired of the endless demands of being fashionable here and there, altering their tastes and bodies according to the current whims – while men finally feel that they can express themselves without the fear of social condemnation. Over the past few years, social media just exploded with men's fashion blogs and bloggers. It isn't now the niche for celebrities only – the ordinary people show off their style and skills, creating the looks for everyday life and special occasions. So, where can we see these awesome pictures on social media?
Pitti Uomo
This is a true festival of metrosexuals! Pitti Uomo is an Italian festival of men's fashion and menswear in general. You won't see so many handsome and stylish people anywhere! It is like a runway for the people who want to show themselves but aren't celebrities or fashion designers (well, mostly! You may meet pretty many celebrities there, too!). They create daring outfits and just walk the streets while the photographers all over the world take their pictures to show them later with the Pitti Uomo hashtags in Livejournal, Instagram, Facebook, and other social media networks. The content is extremely vivid and unconventional, so it doesn't mean if you are searching for this year's pictures or the earlier ones: Pitti Uomo men are eternally stylish and cool!
Instagram
The #mensfashion hashtag is now the eighth most popular fashion hashtag on Instagram. Finally! It is used not only by brands promoting their goods and looks but also by the local fashion icons. You can add the style hashtag to this one and find your fashion blogs of any direction: from goth, punk, and other edge styles to classical and casual ones. Instagram is also the best place to spot the newest trends in men's fashion. After you follow some Instagram fashion bloggers, the search algorithms will do the rest of the job for you and offer you more people who are fond of your chosen style. To understand the power of hashtags and how they can promote, read on likesfinder. Instagram is all about trends, new goods, and good looks, so what the best place for men's fashion can be?
If you still don't know where to start, try to investigate the accounts of the most famous men's fashion brands such as Hugo Boss. You'll see true eye candy and will give Instagram search algorithms a good start!
Other Social Media
Another great place to search for a fashionable outfit is Facebook. Facebook is another type of social media that values texts as much as the photos. So you may search for the fashion blog of a particular person and subscribe. You'll get lots of pictures, but also lots of stories about creating this or that outfit, maybe some logic of wearing it and tips for creating similar ones. Usually, such fashion bloggers are also models, celebrities, or fashion designers, but you may find some ordinary people (with extraordinary fashion tastes) too. Also, Facebook isn't as shiny and glossy as Instagram. It is much more tolerant of non-standard body shapes, so it's a great idea to search for the non-convenient fashion there. Facebook is a great platform for discussions, not admiration only. So if you want to try yourself and get some advice from the professionals or give some advice by yourself – try Facebook!
Social media are perfect for displaying men's fashion because they are able to react as fast as said fashion changes. They are also a great place to express yourself before going to the actual streets, like giving your outfit a test drive. You may even get a whole moodboard of inspiration from Instagram or Pinterest, develop your own personal taste and style, and become a social media fashion blogger by yourself!