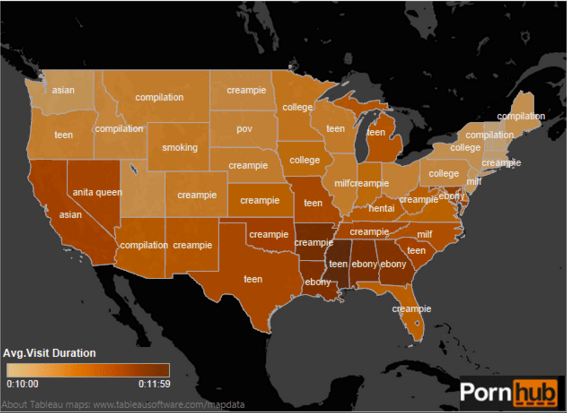 What types of porn are people in your home state watching? Pornhub removed the guesswork by creating a graphic that tells you the most searched terms in each state, and how much time the average user spends learning about the birds and the bees. You'll notice that "teen" shows up often, which is disturbing despite the performers all being 18 and over. "milf," "asian," "compilation," and "creampie" also make multiple appearances, as does "college," which we've convinced ourselves that users are actually trying to find out which colleges their favorite porn star attended.
And then there's the one-and-done terms, like "anita queen," "smoking," "hentai," and "pov." We don't get hentai — animated porn — but we thought Jessica Rabbit was hot, so sure, why not. But smoking? Explain that to us, Wyoming. We're going to assume that it's not videos of people tugging on cigarettes like, say, a detective interrogating a perp. Perhaps it has to do with smoking the cigarette using other areas of the body? While we admit the feat sounds impressive, it's hard (heh heh) to imagine that those acts are wild or erotic enough to create the number of boners that would land on Pornhub's search list.
As for Anita Queen, she's an adult film actress from the Czech Republic. We've never seen her videos before, so we went to IMDB to give us a quick rundown of her work. She's been a busy woman …
You might remember her from Hostel — we don't, but she's in the movie — and she also has quite a few action titles on her resume: The Slave Huntress, Big Butt Attack, Drunk Sex Orgy: Prison Pussy Break — as well as a few rom coms — Big Titty Lesbians, Young Girls in Love 3, and Girls Just Want to Have Fun.
Aside from Hostel, Rottentomatoes.com, sadly, didn't have a consensus for any more of her films. Maybe we'll just pick one eeny-meeny-miny-moe style and dive in.
Lastly, we'd like to give props to Mississippi, Alabama, and Georgia, who log between 9-12 minutes per session on Pornhub. Great work! If you're living in any of those states, we'd suggest giving yourselves a hand … except with one hand controlling the mouse and the other occupied, you probably can't.

Also Read: Women Love Lesbian Videos and 8 More Female Porn Habits
Guess what, fellas? Women serch or "lesbians" more than you do.