Whether you cook, spend time with your family or relax enjoying a cup of coffee, your kitchen can become a place that fits all your needs. When decorating a kitchen, consider these two elements: aesthetic and functionality. Yes, first impression matters, but you also need to create a functional environment for daily activities, such as cooking or washing dishes.
Aesthetic and functionality are essential for creating the perfect kitchen for you and your family, so choose wisely the elements that will constitute your cabinetry and chromatic vision. You can start by selecting a kitchen cabinet that fits your room size. This cabinet is built-in furniture that helps you store kitchen essentials, such as food ingredients, cooking equipment or dishes. When buying a kitchen cabinet, keep in mind that you will use it daily, so it's important to pay attention if it has an ergonomic structure and provides you with the desired functionality.
Focus on cabinetry if you are about to redecorate your kitchen or design it from scratch. You can consider it the central piece of the space and match the other kitchen design elements with its chromatic structure. You can choose from a wide range of styles and colors, so don't hesitate to start your decoration process right away.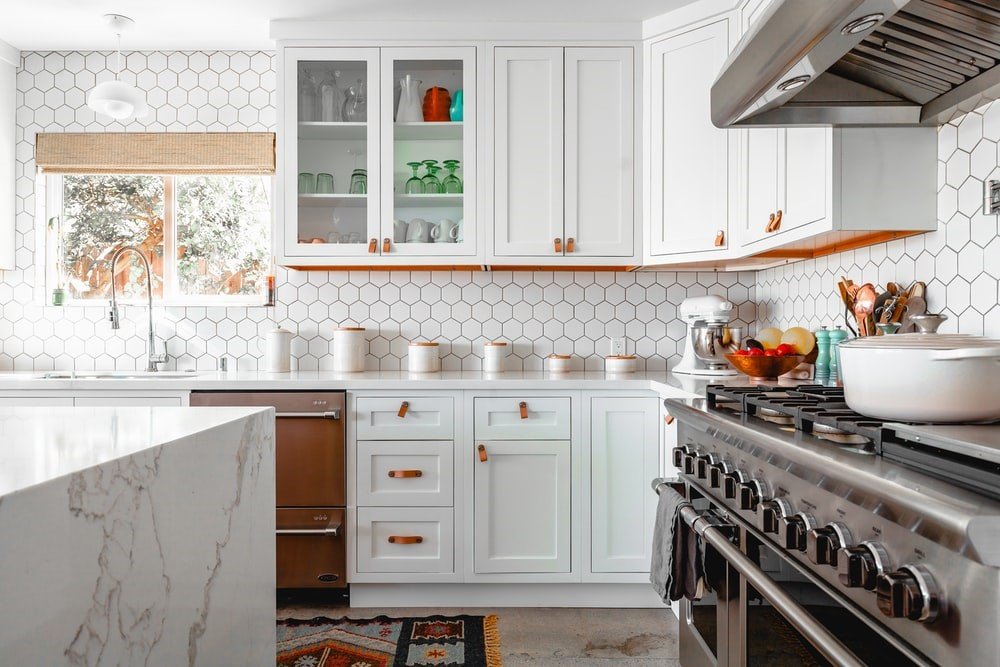 If you need a helping hand, here are some tips to follow if you want a fabulous kitchen:
Choose a cabinet that fits your style
Kitchen cabinets are the essential element of every kitchen. When you start looking for a cabinet, make sure it will fit your style and needs. You can choose from lots of designs, textures and colors. For example, shaker style kitchens offer you both aesthetic and functionality. They have timeless classic features that has helped them become more popular over the years.
Shaker kitchens gather all the quality elements; they are the definition of simplicity and class. Besides, shaker kitchens are very practical, made of qualitative materials, have clear spaces, and include deep drawers and extra storage spaces. In other words, they are a perfect dream for everyone who plans to decorate a kitchen now or in the future.
After pointing out their functionality and clever storage elements, it's time to discuss what color fits best in a shaker kitchen. There is a wide color palette that includes shades of neutral colors, such as beige, light brown or white. These colors are undoubtedly evergreens, and they will always pass the test of time. Yes, trends come and go, but the classic style never gets old, meeting the requirements of many generations.
Mix colors and textures
As mentioned before, colors and textures are important elements for the final look of your kitchen. You can mix them as you want, but it's recommended to use a color pallet to maintain chromatic equilibrium. Here are some color trends you can follow to obtain a fresh look for your kitchen:
Neutral colors. They are the perfect match for a shaker style kitchen, promoting simplicity, refinement and elegance. For a stunning effect, you can choose a white kitchen cabinet with accents of beige and ivory.
Contrasts. Bold contrasts can offer your kitchen an incredible look. You can obtain a great visual effect by using various shades of pink and green.
Dark colors. Whether they are used in the fashion industry or for interior design, dark shades define elegance. A dark kitchen can look fabulous if you mix black walls, cabinetry and worktops with textured woods. You will obtain an elegant, luxurious effect that will impress every guest.
Color pops. Painting one of your kitchen's walls or kitchen cabinet's doors in a vivid color can refresh the final look of your kitchen. Besides, you can play with colors all over the kitchen, from appliances, chairs and tables to flooring and backsplashes.
Choose layered lighting
Lighting is essential for everyday activities because a bad light can cause multiple problems, such as eyes strain, fatigue or stress. Kitchen lights are not an exception. People spend a long time in the kitchen during the day, so it's important to adapt the lighting to fit their needs. Besides, you can use lights to change the kitchen's atmosphere; you can use ambient lighting to create a cozy and welcoming space.
Layered lights are great for highlighting a room's best features. For the kitchen, you can add them depending on your needs. There are three main types of kitchen lights:
Task lighting, used for the cooking process;
Ambient lighting, used for general illumination;
Accent lighting, used for spotting specific or unique elements, such as an unusual backsplash or a beautiful painting.
Follow latest trends
Even if shaker style kitchens are made to oppose the on-trend approach, checking the latest trends helps you form an idea on how to choose and mix kitchen elements. Here are some actual trends that may fit with your vision, allowing you to enhance the simple beauty of your shaker kitchen:
Kitchen islands. They have become an essential feature for many kitchens because of their high functionality and capacity of creating extra space for various activities.
Floating shelves. They are very practical but also can display kitchen accessories.
Broken-plan living. A broken-plan living can offer you the perfect space for family and friends' gatherings, so it's ideal if you want to convert your kitchen into a relaxing area.
Add natural elements
Natural elements fit perfectly in the kitchen, and you can use them to create a space where everyone can relax and enjoy moments of joy. Add plants, paintings and wood elements all over the kitchen and use as much natural light as possible. The natural elements will improve your space design, creating a cozy atmosphere. Also, if you choose a shaker kitchen, they will complement its simple and natural design. Don't forget that you can opt for any very traditional or ultra-modern styles. Don't be afraid to add extra decorations and accessories because they will become your decoration process' personal touch.
Style never goes out of fashion, and shaker style kitchens represent the best example for this statement. Whether you want a whole new design for your kitchen or just a redecoration, shaker kitchens can help you create a timeless design, giving you the advantage of both aesthetics and functionality. If you decide that a shaker kitchen fits your style best, follow the tips presented before and watch how your dream kitchen comes alive.