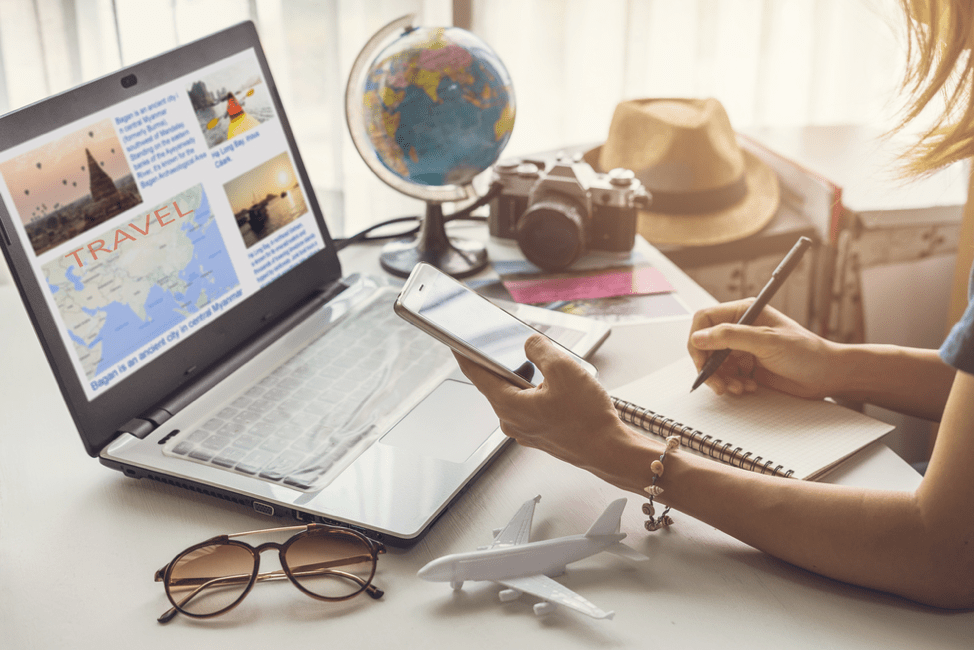 Feeling unmotivated at work, and stuck in life? Not sure what to do next, or how you will make it through another day?
Have you considered traveling for a change?
There is a reason why you are struggling to get up in the morning, despite a full night of sleep. It is no coincidence that you find no interest in your current state of life.
It's like you are missing something, but you're not sure what it is.
Traveling is the perfect way to escape the daily, mundane life, and get away on an adventure to feel alive again. Although there are lots of places you can travel to, traveling to Europe may just be the breakthrough you were looking for.
Taking a trip may sound exciting, but the packing process can wear you out. Hence, to make your travel planning as simple as possible, we came up with these little clever tricks to get you started on your next quest to self-discovery!
However, since it is a big plan, we want you to consider some of the major key factors before stepping out of your house. Let's try to clarify what you can expect from the adventure, and what it will cost you.
Decisions to Make Before the Trip
Some people don't struggle to reach a decision. They just know what they want, and when they want it. So, their desires sort of fall onto their laps!
If you are the 'spontaneous and adventurous' type, you already know what you are trying to get out of this episode. However, if you need some more information, research, and time before deciding to embark on this journey, take the time. But don't take too long!
Moreover, you have to consider the time you will be away from your ordinary life, and also the cost. If you are not sure about how long it will take you, it is better to quit your job before you get away. But if work is a priority for you, develop a schedule.
For some of you, this trip may bring you the transformation that you have been longing for a very long time. On the other hand, it may just be the escapade you wanted from your daily, boring life.
Whatever your reason to travel, you have to keep the expense in mind. Make sure you have enough funding to support yourself throughout the journey. If you are planning to quit, make sure you have a backup plan.
Always remember to cover your Europe trip with comprehensive travel insurance. Ailment or Injuries may be the most widely recognized reason for the ruined excursion. On the off chance that you or your friend were to become ill just before your arranged tour and you need to drop, you could lose the full expense of the outing. Or then again, if a health-related crisis manifests during your outing and you have to get back home right on time, much of the time, there might be no repayment accessible. That is, place travel insurance could prove to be useful. You can discover numerous trustworthy insurance providers like theaa.ie insurance to find more about the different travel insurance plans for all types of trips.
Best Places to Travel in Europe
When we think of Europe, we imagine beaches, coffee shops, ancient architecture, wine, people, and chocolates. But of course, there is more to Europe than this.
We can learn so much about ourselves by visiting places known for successful civilizations. We may also find ourselves in the cultural diversity of each country.
So, let's get to know all the best where places you can travel in Europe, and have no regrets once you get back home.
Romania
Romania is famous for Dracula, wine, salt mines, medieval fortresses, dense forests, the Black Sea, sunflower fields, wolves, and the Carpathian mountains.
It is also safe for traveling, and the crime rate is pretty low. However, only 40% of Romanians speak English, so you may want to get a dictionary.
Iceland
Iceland is known for its scenic beauty. You may want to visit the Snæfellsjökull National Park, Gullfoss Waterfall, Leidarendi Lava Caves, Mount Esja, Helca volcano, Thingvellir National Park, Skaftafell Park, Lake Myvatn, Golden Circle Route, Hallgrimskirkja Church, Puffin Island, Djúpalón Beach, Asbyrgi Canyon, Blue Lagoon, Rauðasandur Beach, and Tectonic Plates.
It is completely safe to travel to Iceland, but beware of the weather. Make sure you are properly dressed for the cold Northern climate.
Italy
It is safe in Italy, where tourists flock to. You can also have delicious, authentic Italian food anywhere in the country.
It is safe in Italy, where tourists flock to. You can also have delicious, authentic Italian food anywhere in the country. Aside from its delicious food, the people are also wonderful. If you're planning to travel to Italy, learn basic Italian with The Intrepid Guide, and have an amazing encounter with the locals and taste their one-of-a-kind cuisines.
Italy is famous for Pompeii, Amalfi Coast, Cinque Terre, Venice Canals, Colosseum, Leaning Tower of Pisa, Lake Como, Florence Duomo Santa Maria del Fiore, Vatican City, the Uffizi Gallery, Milan Duomo, Capri, Roman Forum, Pantheon, and St. Mark's Basilica.
France
France is well known for its Eiffel Tower, River Seine, Notre Dame Cathedral, Mont Saint Michel, Château de Versailles, Bordeaux, Château Vaux-le-Vicomte, Haut-Vaucluse, Auvergne Region, Saint-Tropez, and the French Alps.
Scandinavia
The cheapest Scandinavian countries are Sweden, Finland, and Denmark. Norway is the most expensive. But they are all beautiful and blessed with natural beauty.
You can visit the Koli National Park in Finland, Oresund Underwater Bridge in Denmark and Sweden, Preikestolen in Norway, Stockholm Archipelago in Sweden, Löyly Sauna in Finland, Råbjerg Mile and Rubjerg Knude Lighthouse in Denmark, The Atlantic Road in Norway, Ice Hotel in Sweden, Lofoten Islands in Norway, and Geirangerfjord in Norway.
Netherlands
In the Netherlands, you can visit the Anne Frank House, Van Gogh Museum, Zaanche Schans, Rijksmuseum, Volendam, West Church, Marken, Amsterdam Canal Ring, Magere Brug, Edam, Dam Square, Historic Valkenburg, Hoge Veluwe National Park, Amstel River, Jordaan Canals, Keukenhof, The Windmills of Kinderdijk, and Kasteel De Haar.
Netherlands is a safe country overall. But pickpockets and thieves are common in high tourist areas. Also, be careful near bars and clubs, because you become their main target.
Clever Tips to Travel to Europe
It will seem like you haven't really seen the world until you have seen Europe. There are more places where you can travel to in Europe. It is not limited to the ones we have discussed.
But whatever you do, we want you to keep a few points in mind while you are still in the planning stage. Check these little tips below for details.
Safety First
Wherever you go, keep your safety in mind. Travel agencies may say that the places you are traveling to are safe, but do your research before you make a decision.
Check different travel blogs and comments to learn more about the experience of previous tourists. Only pack your bags when you are absolutely certain that you won't lose your belongings while looking for your soul!
Book the Cheapest Flights
This may sound weird, but the flight price increases when you search for the same route several times. So, we recommend that you search for flights in 'incognito' mode.
In Safari or Google Chrome, you can achieve this mode by clicking on Control and N at the same time. In Internet Explorer, or Mozilla Firefox, it is done by pressing Control, Shift, and P at the same time.
Incognito windows reset all cookies every time they are reopened. Therefore, before you search for cheap flights again, close all the previous incognito windows, and open a new one.
Additionally, always use coupons and fares on sale to book a flight. Picking a cheap day to fly can also go easy on your budget plan.
Travel During Certain Seasons
June, July, and August are the seasons when tourists flock to Europe. This is the time when flights are expensive, and the high number of tourists makes it impossible to enjoy the ride.
On the other hand, April, September, November, December, January, February, and March are typically the best time to travel to Europe. This is because not a lot of people want to travel to Europe during this time, so the flights cost less, and you get to have Europe all to yourself!
By traveling in less popular seasons, you are also saving money on food, accomodation, activities, and other general costs. Furthermore, you will be able to make local friends, and get to experience the continent on a personal level.
Plan How to Travel between Cities
Don't leave everything to your whim. Plan things ahead to make sure you don't have a bad experience in a foreign country.
You need to have some handy tools that can help you make your plans ahead of time. Omio is one of those apps that help you estimate the time and cost of traveling by plane, bus, or train.
You can travel to about a hundred cities in Europe with budget airlines, such as Eurowings, EasyJet, and RyanAir. You can do the same with buses by using Ouibus, RegioJet, Eurolines.eu, and Alsa.
On the other hand, there is an interesting way to travel in Europe, which is known as ride-sharing. BlaBlaCar is known as the most trusted on the continent. All you do is pay the drivers pennies while sharing the trip with cool new friends.
What to Pack
You don't want to go overboard with packing, even though you are going to be visiting exotic places. Take as few items as possible to save up on luggage cost, and also to keep space for souvenirs.
Pack clothes that will make you look more like a local. You can do a Google search or an Instagram search to find out how the locals dress in European countries. Try out the best backpacks for travel to make packing easier.
Make sure to use all the pockets in your suitcase. Fold clothes into a mini roll, so that you can save space for more things to fit in.
Carry essential toiletries in your bag. Don't rely on hotel supplies.
A neck rest and earplugs are super important during flights. Additionally, carry your essential oils for calming anxiety, for relaxation, and sleep.
Accomodation and Food
Unless you don't mind spending thousands on your trip, you will need to find the best and cheapest accommodation out there. You are going to be traveling to different cities, so you need to save up as much as possible.
AirBnb has gained a good reputation for offering tourists good but affordable places to live in during their travels. Booking.com will also help you find the best and the most affordable hotel in the area where you are planning to go to.
Just don't forget to use coupons and best deal offers at the time.
Even when you find the cheapest hotel in the area, don't expect their food to be cheap. It's alright to enjoy local food and all the fine things Europe has to offer, but if you're trying to save money, watch out.
Ask the locals or the people at the hotel about the nearest grocery shop, and prepare your own meals. Firstly, binging on foreign food may not always be right for your stomach.
Secondly, you have to be prepared for the unexpected, and save as much as possible. Afterall, it's going to be a big trip.
In Essence
Planning can be hard work for some people. It can even cause stress.
So, try to ease up on the planning process by keeping things simple. Pick your destinations, take your friends or family, pack light, plan the routes and cost, then head out.
The most important things to remember when you're traveling to Europe is to have enough funding, enough supplies to last for days, your safety, and of course health.
Don't forget to pack up on essential medication.
Also save emergency contacts to hospitals and police station of the city you are traveling to beforehand. Lastly, stick to your tour guide, and don't get left behind!