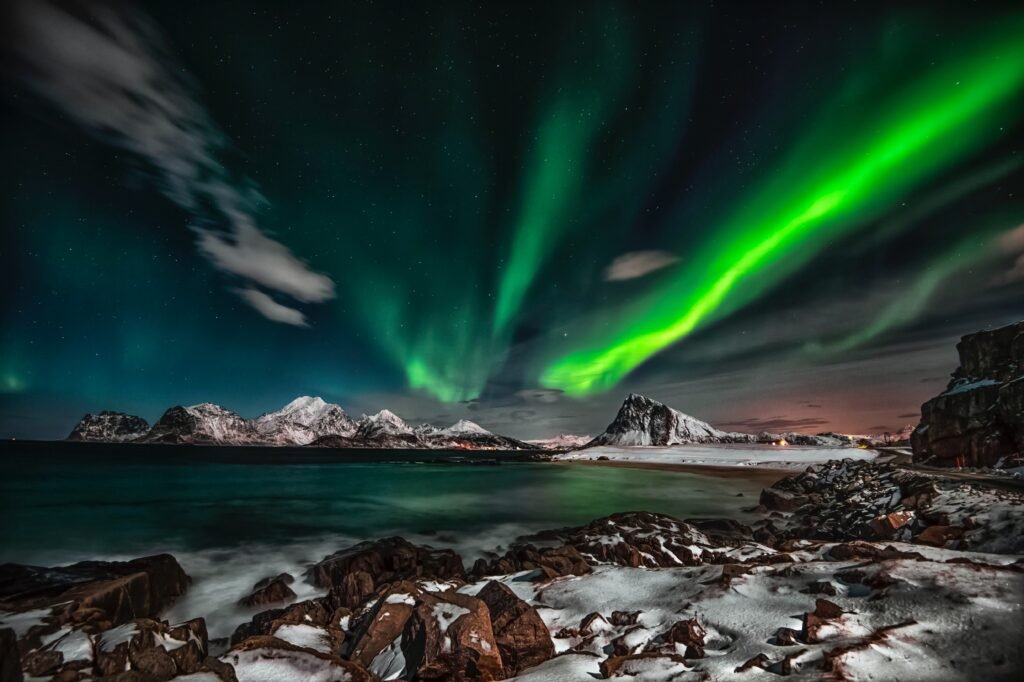 The Northern Lights tour is one thing that every tourist wants to experience when you are in Norway. There are a few mistakes that you can make that may make this experience a disaster though. Here are the top 10 things to avoid on your Norway travel:
Choosing the wrong mean of transport
In general, the whole flow of tourists may be divided into two parts: those ones who seel to save as much more time as possible while traveling and usually prefer traveling by plane. Another part of tourists prefers a bus, that allows saving money but makes a road linger and a lot less comfortable. Traveling by train lays somewhere in between uniting the comfortability with money & time-saving. For example, if you had a vacation in the very heart of the Northern Lights, Bergen, it would be a lot faster and convenient if you go from Bergen to Oslo by train if the fascinating capital of Norway is your point of destination on the way to home or another itinerary. Despite saving a lot of time you will be able to do more things there as a tourist. If you hire a private car, there is a possibility you will get stuck in traffic or run into car trouble. That is not something you would want to happen especially if you have a tour that is scheduled for the lights. There is also more space when you hop aboard a train.
Not Knowing the Weather
There are some times of the year when it is not good at all to see the Northern Lights. Better know the weather in advance so that you will know right away whether it is a good time to go or not. Remember, all countries have different weather during various parts of the year. It doesn't mean that you have hot weather today then Norway will also be the same. It is possible it is hot in your country but it is pretty cold in there.
Bringing the Wrong Clothes
Speaking of the weather, that will factor in the clothes that you will bring. It would not make sense to wear summer clothes as you are heading to the arctic. In fact, it would be advisable to bring a lot of jackets and coats. Better add a lot of winter accessories too in order to stay warm.
Planning Itineraries by Yourself
It would be important to sign up for a Northern Lights Tour with a tour agency. They will take you to the best places to see the awesome display when it is your turn to go there. Since they have been there a lot of times, they would know the best spots. It would also be better if they have a cancellation policy so that you can cancel a few hours before it if the weather looks pretty bad. When that happens, they would certainly understand. There are some experienced tour guides who will even teach you how to properly photograph the lights. They have seen it many times and they know there are a lot of nice angles. It would be best to select a tour group that has garnered a good rating on TripAdvisor so you will be confident of their abilities.
Staying in Norway
Believe it or not, Norway is not the best place to see the Northern Lights. You must book an accommodation at Abisko, Sweden as that is the best place to see it. It is also the cheaper option in terms of accommodation and food which means you will be able to spend more for the tour and other expenses in case you want to extend your stay. We all know we would all want to spend as less as possible when it is time to travel. Believe it or not, there are a lot of places in Abisko where you can see the Northern Lights from where you are staying.
Failing to Fully Charge the Camera
There will be many times when you would want to snap a picture of the Northern Lights. Hence, better make sure that your camera is fully charged when the tour starts. It is not safe when it is just half charged or just three fourths. If you are leaving for the tour in the morning, then you can leave it charged when you go to sleep. If you do that, you are going to be sure that it is going to be fully charged when you wake up.
Not Meeting the Call Time
The tour will tell you a specific time to go to a specific meeting place. If you don't do that, they will most likely not refund the amount that you paid them. After all, it is not their fault that you missed the tour. You can't really expect the other tourists to wait for you as they would get mad that you are wasting time. It would be better to set your alarm clock a bit earlier than the call time so you would have a lot of time to prepare for the tour.
Not Planning Other Activities
It would be a shame if the only thing you will do at the Arctic is to see the Northern Lights. There are a lot of other nice things to do there and you will love every single one of them. Better ask your tour guide what else you can do so that you will make your time worthwhile. If you came from a far country, you know you should make your trip worth it by doing other snow activities up there like snowboarding and other winter sports. Of course, that would depend if you are willing to perspire a bit.
Forgetting to Ask the Tour Guide Lots of Questions
You paid the tour guide so may as well get your money's worth by asking him or her a ton of questions. You must admit the person has been living in the area for quite a long time.
Choosing the Wrong Date
The best time to see the Northern Lights is not the middle of the summer like some people may have suggested. It is actually the latter part of the year where you would want it to be great. You may not even catch a nice glimpse of the Northern Lights when you do it at the wrong time. That would not be a good experience when you spent a lot of money for the trip. Of course, you only have yourself to blame if that happens so better ask the local tour agencies about the best time to go there.