3. Jack Black Industrial Strength Hand Healer ($15 @ Amazon.com)
This strong, non-greasy formula heals and soothes dry, cracked skin with the use of macadamia nut oil and vitamins A and E. The mixture penetrate the skin while allowing the cells to heal. The addition of eucalyptus cools and soothes pain.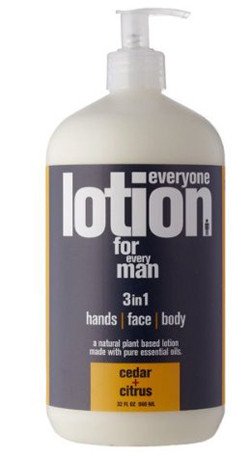 4. Lotion For Every Man — Cedar and Citrus ($14 @ Amazon.com)
Made with essential oils that heal deeper than mineral oil alone, Lotion For Every Man is a gentle lotion that's versatile enough to moisturize your hands, face, or body. The inclusion of glycerin and coconut moisturize the skin by locking in natural oils for continuous healing.
5. Thymes Hand Lotion — Eucalyptus ($13 @ Amazon.com)
Made with jojoba oil and honey to soothe and heal chapped skin. Citrus oils aid in restorative healing of the skin, giving a bright scent sure to please. Because of the bottle, we'd suggest keeping this one at home in a bathroom cabinet, out of sight. Any of the others are more suitable for public viewing.