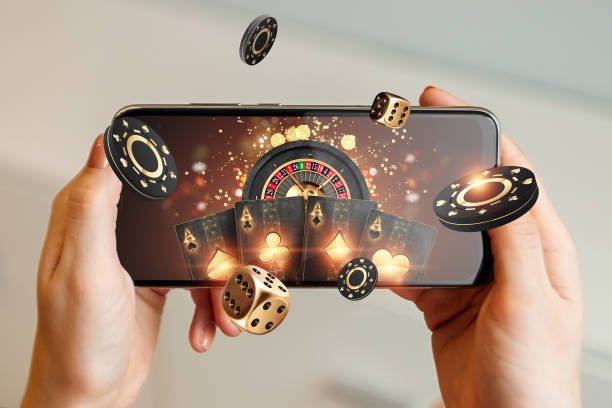 Are you a fan of casino games, but find it hard to manage your spending at online casinos? Don't worry, you're not alone. With so many options available and the thrill of winning big money, it's easy to get carried away and overspend. However, with some careful planning and budgeting, you can still enjoy your favorite games without breaking the bank. In this blog post, we'll guide you through the process of finding the best online casino for your needs and share tips on how to make a realistic budget that works for you. So let's dive in!
What is an online casino?
An online casino is a virtual platform where you can play various games of chance and betting. Unlike traditional land-based casinos, online casinos are accessible through your computer, tablet or mobile phone.

One of the most significant advantages of online casinos is convenience. You can enjoy your favorite games from anywhere and at any time without having to leave home. Additionally, online casinos offer a wider range of games compared to their brick-and-mortar counterparts.

Another advantage that comes with online casinos is the opportunity to earn bonuses and rewards for playing regularly. This often includes sign-up bonuses, loyalty points or free spins on selected slot machines.

Online casinos use different software providers such as Microgaming and NetEnt to develop high-quality games with impressive graphics and sound effects. Players can choose from popular classics like blackjack, roulette, poker or slots as well as newer titles that cater for all tastes.

An online casino provides an excellent alternative for those who cannot visit land-based establishments but still wish to have some fun while potentially winning big prizes in the process!
How to find the best online casino for you
When it comes to finding the best online casino for you, there are several factors that come into play. First and foremost, you'll want to make sure the online casino is reputable and trustworthy. Look for casinos with licenses from respected regulatory bodies such as the UK Gambling Commission or Malta Gaming Authority.

Next, consider what types of games you're interested in playing. Some online casinos specialize in certain types of games, while others offer a wide variety. If you're someone who enjoys trying your luck at various games, look for an online casino with a diverse selection.

Another factor to consider is the bonuses and promotions offered by the casino. Many online casinos offer welcome bonuses or regular promotions to keep players engaged and coming back for more.

It's also important to check out the payment options available at each online casino. Make sure they accept your preferred method of payment and that withdrawals are processed quickly and efficiently.

Take some time to read reviews from other players before making a decision on where to play. This can give you valuable insight into things like customer service quality, game fairness, and overall user experience.
What games can you play at an online casino?
Online casinos offer a wide variety of games to suit every taste and preference. Here are some popular games that you can play at an online casino:

Slots: Slots are the most popular game at online casinos, as they require no strategy or special skills. You simply spin the reels and hope for a winning combination.

Table Games: Table games include classics such as Blackjack, Roulette, Baccarat, Craps and Poker. These games require more skill than slots but offer higher payouts if played correctly.

Live Dealer Games: Live dealer games provide an immersive experience where you can interact with a real dealer in real-time while playing your favorite table game.

Video Poker: Video poker is similar to traditional poker but played on a machine rather than against other players. It requires strategy and skill to win consistently.

Specialty Games: Specialty games include scratch cards, bingo, keno and other unique options that vary by online casino. They offer quick gameplay with high potential payouts.

No matter what type of game you choose, make sure to set a budget beforehand so that you don't overspend while having fun at an online casino!
How to make a budget for your online casino spending
Before diving into the world of online casinos, it's vital to set a budget for your spending. This can help you avoid overspending and getting in over your head with debt or financial trouble. Here are some tips on how to create a budget for your online casino spending.

First, take an honest look at your finances and determine how much disposable income you have each month. Then decide how much of that money you're comfortable allocating to online gambling activities.

Next, consider using separate accounts for gambling funds and other expenses. Keeping the two separated will make it easier to track what is being spent specifically on betting.

It's also crucial to establish self-imposed limits on betting amounts per day, week or month. Stick strictly to these limits – there's nothing worse than going over-budget while playing with real money!

Be sure not to dip into savings or emergency funds when making deposits at online casinos; always use only the extra cash that has been allocated for gaming purposes.

Be realistic about what games are worth playing based on their odds and potential payouts. Don't fall prey to high-stakes bets just because they seem exciting – this could lead down a dangerous path of overspending!
Tips for sticking to your budget
When it comes to budgeting your spending at online casinos, sticking to your plan is key. Here are some helpful tips for making sure you don't overspend:

1. Set a limit: Before you start playing, decide how much money you're willing to spend and stick to that amount. This will help prevent impulse bets and keep you from getting in over your head.

2. Use responsible gambling features: Many online casinos offer tools like deposit limits and time-outs that can help you stay on track with your budget.

3. Take breaks: Gambling for long periods of time can lead to poor decision-making and impulsive betting. Taking regular breaks can help clear your mind and make more rational choices.

4. Avoid chasing losses: It's easy to get caught up in trying to win back what you've lost, but this often leads to even greater losses. Know when it's time to walk away if things aren't going well.

5. Keep track of your spending: Make note of every bet or transaction so that you know exactly where your money is going.

By following these tips, you'll be able to enjoy the excitement of online casino games without breaking the bank!
Alternatives to online casinos
While online casinos can be a fun and exciting way to gamble, they are not for everyone. If you're looking for alternatives to online casinos, there are plenty of options available.

One option is visiting a brick-and-mortar casino. Many cities have large casinos with a variety of games like poker, blackjack, and slot machines. These physical locations often offer more social interaction than their virtual counterparts.

Another alternative is sports betting. This can be done in person at sportsbooks or online through various websites and apps. Sports betting allows you to place wagers on your favorite teams and players without the need for complicated strategy or skill.

For those who want something different altogether, consider playing free-to-play games that don't involve any gambling whatsoever. There are countless mobile games available that allow players to enjoy the thrill of competition without risking any money.

Ultimately, it's important to find an activity that suits your interests and budget while providing enjoyment and entertainment value. Consider exploring these alternatives if online casinos aren't quite right for you!
Conclusion In summary, online casinos can be a fun and entertaining way to spend your time, but it is crucial to budget wisely. By following the tips outlined in this article, you can create a solid financial plan for your online casino spending and make sure that your betting doesn't get out of control.

Remember to always choose reputable online casinos with fair games and reliable payment options. Take advantage of bonuses and promotions when available, but don't let them tempt you into overspending.

If you find yourself struggling to stick to your budget or experiencing signs of problem gambling, seek help immediately. There are many resources available for those who need assistance with managing their gambling habits.

By taking responsibility for your finances and making smart decisions at the virtual casino tables, you can enjoy all that online gaming has to offer without breaking the bank.