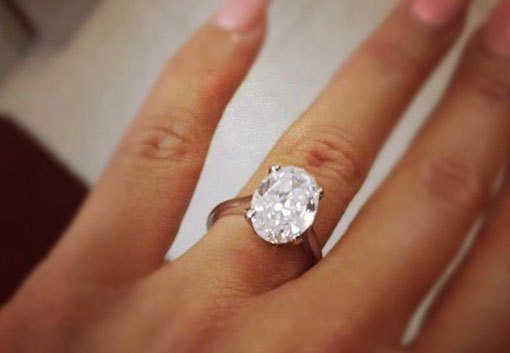 After lots of dates, meeting the parents, and suffering through countless hay rides and apple picking, you finally realized you're ready to pop the question. Congrats. The next step is finding the engagement ring, and you can't blow this one, pal. She has to love it or else she'll stop loving you. Okay, that's not true necessarily, but she really does have to love it.
But how do you go about buying an engagement ring? We asked second-generation goldsmith Brian Lewis for tips.
#1. Budget
An engagement ring is an investment. Do your due diligence.
In his 14 years in the jewelry industry, Lewis said he has often seen men struggle with how much to spend. He says a good rule of thumb is about two months of income. Their own income. Before taxes. Plan for that. Save for that.
Once you know your budget, go to several stores and price match, says Lewis. Explain your budget and what you're looking for; then go back to the ring that stood out.
Eric, a recently engaged man in Colorado, said his biggest concern was how much it was going to cost. After establishing a budget, he was surprised at how many options he was able to find. In other words, pretend the ring is something you are buying for yourself (a motorcycle?) and shop appropriately.
Do not use Craigslist.