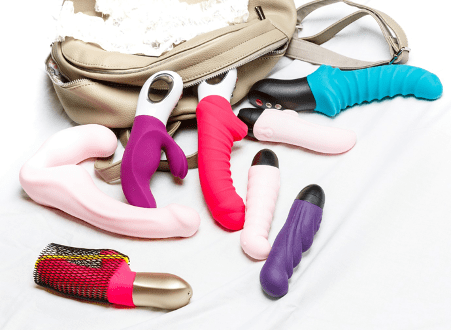 Toys are a great way to spark up more fun in the bedroom. They're perfect for indulging in fantasies and hitting the right spots.
Not to be that person, but there are some things to consider before exploring. Sex toy materials are often a point of contention and for a good reason. Currently, the FDA does not regulate sex toys, so staying informed is the first step to wisely and safely using toys.
These are the 3 best – and safest – materials that comprise intimacy toys.
Sex Toy Materials to Avoid
Before reading about the best, it's good to examine the worst. Sex toys, while fun, can contain chemical properties that react poorly to a woman's body.
Phthalates, a chemical used to make plastics flexible, can cause irritation and infertility. Avoid any toy with this compound. Jelly, PVC, and vinyl have an infusion of this substance.
You should also avoid porous devices and toys comprised of common allergic materials, like latex.
Cheap glass toys are also a bad idea. Unless they're a certain type of glass, they can be brittle and porous.
1. Stainless Steel
Yup, like the stuff your 'fridge is made from. Stainless steel sex toys offer a clean surface.
It's completely free of pores. Porous material houses pockets of bacteria, something you don't want to introduce to your sensitive regions.
Some may or may not enjoy the feel of steel. When it's cold, it offers a cool punch that can be extremely pleasurable for both of you.
Most of all, it's very easily cleaned. Stainless steel is dishwasher-safe. Or even a quick wipedown with soap and water does the trick.
2. Silicone
Silicone sex toys are tried-and-true safe. And to boot, it offers a hyper-realistic feel.
The silicone is very flexible and bendy. If you're going to vigorously use a toy, it might be a good idea to substitute a steel or glass toy with something made of silicone. The lack of rigidity can be a life-saver on your lady parts; one foul move won't ruin you.
3. Borosilicate Glass
The safe-type of glass toys is borosilicate. It's a very smooth material that lacks pores. Moreover, its chemical structure is very durable.
Glass toys aren't susceptible to degradation from lubricants that a silicone toy might experience.
Glass also offers easy cleanability. Like metal, most glass toys can be cleaned in the dishwasher.
This material is also odorless and tasteless. Some people might find plastics and silicones nauseating, which takes you out of the mood.
Stay Safe and Play On!
Toys are a great way to spice up your sex life. But, safety first!
Avoid all toys that contain the material phthalate. They're found in common, low-end toys that are made from gel or poor quality plastics. You should opt for safer sex toy materials.
Silicone, stainless steel, and borosilicate glass all offer a safe, quality experience. They're all very hypoallergenic and pore-free.
Are you interested in learning more about sex? Check out our other articles; they'll drive you wild.