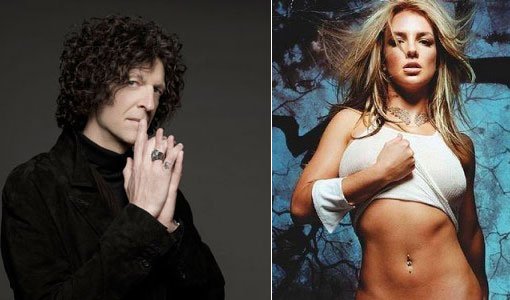 Howard Stern and Britney Spears are about to become America's new favorite reality-show talent competition judges … maybe. Stern is about to debut on America's Got Talent, and it was just announced that Spears (along with Demi Lovato) will be heading Simon Cowell's X-Factor with hopes that she can boost the relatively disappointing ratings of the show's first U.S. season. To figure out if Stern or Spears will be the better judge, we've judged the judges based on extremely scientific criteria.
JUDGING QUALIFICATIONS
Stern: "King of All Media" who's the most successful radio personality of all time in addition to being a best-selling author, a producer, and an actor
Spears: Has sold more than 100 million albums … and has often appeared in court before judges
Winner: Stern
EXPECTATIONS
Stern: Must follow through on his pledge that we won't turn America's Got Talent into The Howard Stern Show; some people fear he'll be offensive
Spears: Must differentiate herself from American Idol judge Jennifer Lopez; some people also fear she'll be caught washing down Flamin' Hot Cheetos with 84 oz. Pepsis while acts are performing
Winner: Spears
SHOW BUSINESS SAVVY
Before The Tonight Show fiasco between Conan O'Brien and Jay Leno, Stern warned Conan it would get messy because of Leno's ego
.
Spears: Shaved her head and went berserk on a photographer's car in the mid-2000s
Winner: Stern<
HONESTY IN JUDGING
Stern: Once warned Gabrielle Sidibe she was too overweight to carry another Hollywood film after Precious
Spears: Has to erase concerns she's an insane imbecille before they'll believe she can judge
Winner: Stern