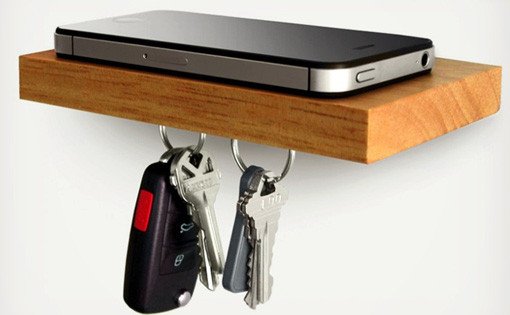 Keeping your keys, wallet, sunglasses, and phone in one location makes sense since they're all easy to misplace and can be maddening to find. Stashing them on top of a kitchen table, nightstand, or dresser are all options, but doing so won't help keep those surfaces clear of clutter. Inside of a drawer is another possibility, but when your phone is completely tucked away and out of sight it's awfully difficult to send a text, converse with Siri, or keep your Nomophobia under control.
Also: 13 Simple Ways To Organize Your Life
The Plank magnetic shelf ($23 @ Amazon.com) isn't as bulky as many wall organizers and is free of key hooks. Instead, your keys will cling to a thin magnetic strip on the bottom of the wood. Installation is a simple three steps and only requires you to own a wall, screwdriver, and pair of working hands.