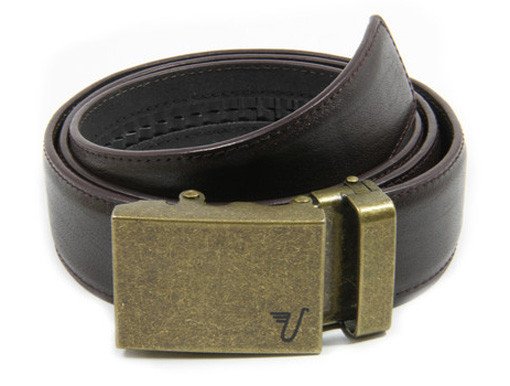 I never buy no-holes belts. Why? Because I don't trust them. Most of them jam often, never seem to fit quite right, and are tough to take off in a hurry (read: sex). So my feeling's been if it ain't broke, don't fix it. Belts with holes always keep my pants around my waist instead of my ankles and that's good enough for me.
Also: 6 Great Belts For Guys Who Need Belts
So what changed my mind? Mission Belt Co.'s products. They look slick — simplistic and modern — and come with a prominent buckle. The one I tested was brown with a gold buckle, which certainly isn't the color buckle I'd go with, but with 22 different types of belts in their arsenal it's not like I don't have other options.
As far as functionality goes, the release mechanism took some getting used to. Mission Belts Co. provides directions: "To remove your belt, pull the release lever away from torso," but I didn't feel as though the lever was moving, even though I was pulling it forward. (Turns out it was, and the belt ended up sliding free with ease.) After the three minutes it took me to get acclimated to my new holeless belt, it was smooth sailing.
If you're looking for an extra reason aside from style and affordability — Mission Belts run between $30-$40 on Amazon.com — the company also donates one dollar to fighting global hunger and poverty through micro lending. Ah, the selfishness of altruism.