Having a bachelor party? Don't bring any of these dumb party favors to it. They're not cool, funny, or smart. They're dumb. However, we provided links to them on the off chance you think we're wrong about this — even though we're absolutely not.
Also: Like Moonshine? You'll Want to Drink These 6
It's your best friend's last night as a single man. You'll need to make this party into the most fun he'll have before he's locked down for good. Here's a start to your perfect bachelor party supplies list.
Yeah, we know the Bachelor Boy Trucker Hat ($16) was featured on Parks and Recreations. And it was worn by the nerdiest character on the show. The same guy who proposed the creating a sports complex called Ice Town that left the city bankrupt and spoiled his mayoral career. Since it has that tie-in you can probably get away with it. Should you attempt to? Nope. Wear your own goddamn hat and move on with your life..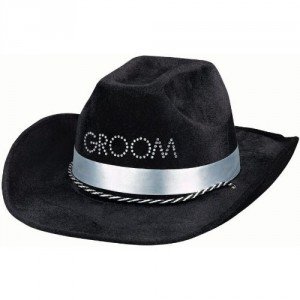 Even worse is theGroom Cowboy Hat ($14). Whether or not you're a country bumpkin, everyone looks like a cowpie wearing this lid.
We're pointing out the obvious here, but Fuckin Wasted Sunglasses ($10) are fucking stupid. Avoid them. Wear your shades, or if you're going to get hammered, pick up a cheap pair at a drug store and sport those to shield your peepers from the sun.
Drawing attention to yourself like this Buy Me a Shot, I'm Tying the Knot ($5 and up) might cause a few people to buy you a drink. But it'll cause everyone to think you're a ginormous attention whore.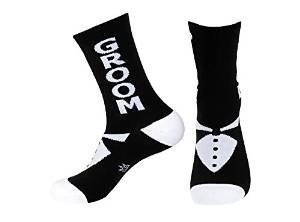 Actually, if you insist on wearing something with the word groom on it, these Gumball Poodle Groom Mens Black And White Crew Socks ($17) are that awful. Mostly because they're discreet. But they're even cooler because they're made in the USA! USA! USA! So, there's that.


Next: Know This Before You Tie The Knot