Airlines charged passengers $3.35 billion in baggage fees in 2013. Great for them, bad for all the people who shelled out an extra $50+ just to get their socks to and from their destinations. Clearly, you want to take nothing but a carry-on bag whenever you can.
Also: 7 Stylish Gym Bags For Men
If it's time to replace your funky old duffel from college or your battered black roller, we've got some great airline carry-on bag options that are durable, have good storage capacity, and will impress even the most jaded of cute flight attendants.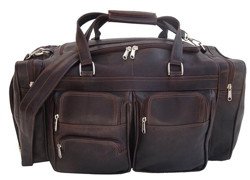 Piel Leather 20-inch Duffelbag ($168 @ Amazon.com)
Spacious enough for a week-long business trip and practical enough for a camping excursion, "The Only Carry-On Bag You'll Ever Need" contains three large compartments plus two additional outside zipper pockets for easy access to items like your boarding pass, passport, and swatch of angora for when you need to soothe yourself during turbulence.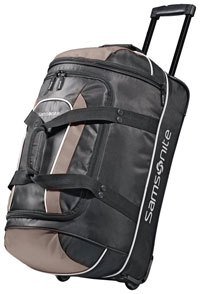 Samsonite Andante Wheeled Duffel ($30 and up @ Amazon.com)
Lightweight and versatile, the Andante carry-on duffel tracks smoothly from a sturdy deployable handle, making it a great and attractive choice for frequent flyers and dudes who just need a bag to lug some of their stuff around from A to B.
The wraparound handle also allows you to carry it like a standard duffel bag (like when you're boarding the airplane or toting around cash from the bank you just robbed). Inside there are plenty of pockets for stashing your socks, undies, and gear. Comes in four colorways.
Ibagbar Canvas Shoulder Rucksack  ($56 @ Amazon.com)
If you're looking to go all Indiana Jones, the Ibagbar's trekking rucksack is a stylish way to dress the part. With a tall boxy construction and strategic access pockets, reinforcing buckles, and three sturdy rubberized handles, this bag was built to endure a beating.
Along with holding books, clothes, and gadgets, it can also house a laptop that's up to 15 inches as well as the Ark of the Covenant and, we presume, a crystal skull.
Also: 6 Headphones Under $200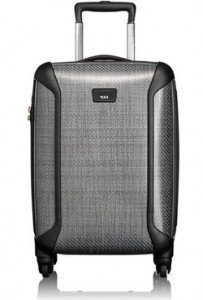 Tumi Luggage Tegra-Lite International Carry-On Bag ($400 and up @ Amazon.com)
Constructed of a triple-layer polycarbonate blend, this hard-side case is lightweight, sturdy, and has four 360-degree swivel wheels. Plus, it looks badass.
The interior is fully lined, features tie-down straps, and has a separate enclosed packing section. And if the badass silver version isn't for you … weirdo … there are four other colors to choose from.