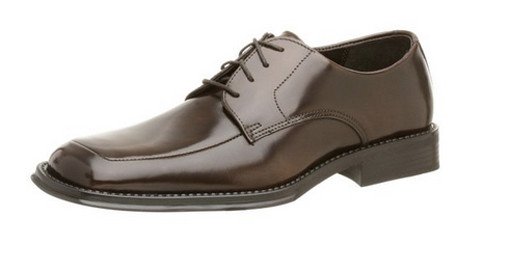 Whether you believe the clothes (or shoes) makes the man — we think it's total horseshit — there's no arguing that your shoes are one of the first things people notice about you. So if you're going on a job interview, meeting a potential client, or attempting to fill Al Bundy's slot selling women's shoes, dress shoes are a must.  The best men's dress shoes, however, can run you hundreds of dollars. But if you look in the right spots — and we did the legwork for you, lazy bones — you can find deals that hook you up with quality shoes for a fraction of the market price.
Pictured: #1. Kenneth Cole REACTION Men's Sim-Plicity Oxford ($45 and up @ Amazon.com)
Molded arch support, square toe, and a sleek and refined oxford finish. The Sim-Plicity Oxford's are crisp, comfy, and priced to move.
Another solid option from Kenneth Cole:



#2. Kenneth Cole REACTION Men's Desert Sun SU Chukka Boot ($58 @ Amazon.com) 
Chukkas have been on trend for a few years now and they can be worn in many ways. Both suede and leather are durable and easy to clean. Adjustable lacing and a breathable interior make this a great shoe for extended wear. These are one of the few dress shoes that offer some actual traction and they come in a variety of colors and textures.
#3. Deer Stags Men's Abbott Oxford ($48 @ Amazon.com)
These Abbot Stags are a fun take on the classic oxford. Coated canvas adds a bit more moisture protection than regular canvas and a slightly roomy fit prevents toe pinching. Comfortable soles make for a shoe that can be worn all day. These are perfect to wear to the office, a day of shopping, or on a date. The brown's slight color variation is a nice touch.




NEXT: FITZWELL & STEVE MADDEN