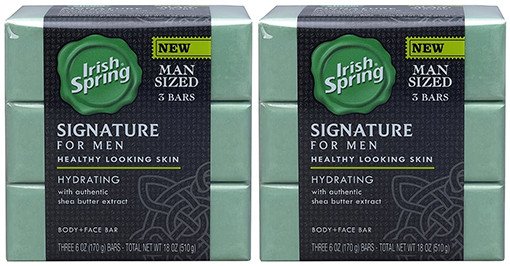 Hydrating soap bars are big green bricks that are infused with shea butter extract to keep your skin feeling fresh, moist, and hydrated. Use it on your face and every other crevice for a lasting but not overpowering clean scent. We've used this and their body wash and can't overstate how great it is; if you've written off Irish Spring in the past, give them a chance to redeem themselves with either this or …
This variation uses rolled oats that gently scrub away dead skin (of if you prefer using the fancier term — the soap exfoliates the skin). Again, the scent is crisp and clean, not overdone or offensive.
The best soap for men in terms of pure bar soap is Musgo. On the market since the 1880s, each bar is made of coconut cream, foams well and is a good value for under $10.
It's best used on slightly oily skin. Basically, if you dry your face with a hand towel and can wring out oil from it afterward, start scrubbing with Erno's mud soap. It's made up of 26 minerals that help clean, detoxify and hydrate skin.



If you think your feet stink, they definitely do — and other people are noticing as well. These tips will help you get rid of your stinky, smelly feet and replace them with … uh, okay-smelling feet.