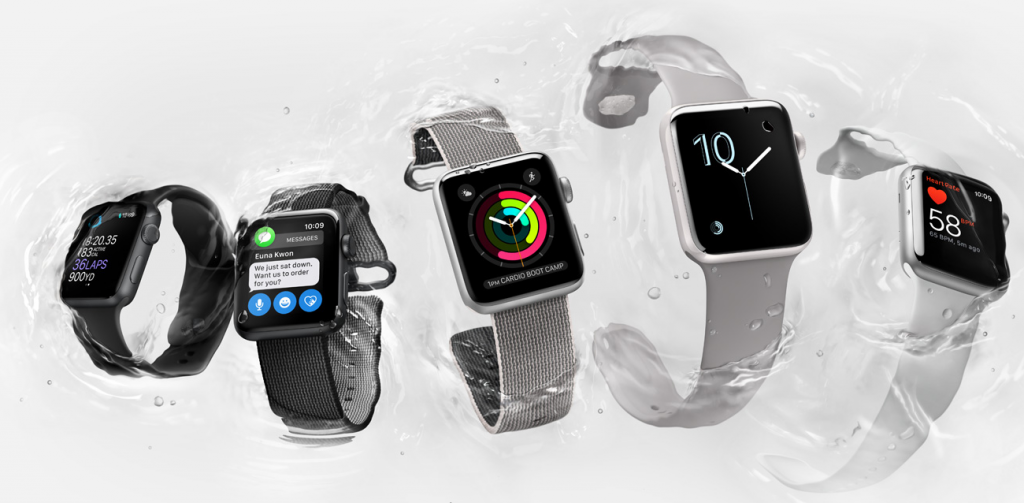 Whether you're a gym rat, occasional gym goer, or still wonder what the hell the inside of a gym looks like — answer: pretty boring —  the right sport watch or smartwatch can help you keep tabs on your metrics. Additionally, like any watch, the best smartwatches and sport watches for men should add to your personal style and say something about who you are.
A crappy watch will die the first time it gets a little wet or banged around. But just because a watch is affordable (read: cheap) doesn't mean it's crappy. So, yeah, you can find yourself a solid sport watches that can get stomped on or dropped and keep on ticking.
Why a sports watch instead of relying on your smartphone? Style. A watch is about displaying who you are or fitting a need. In this case, you can be a sporty guy who digs a sporty look. Nothing wrong with that.  Here are a handful of cool options.
Apple's Series 2 (above) kept the old rectangular design but upgraded the process and added a brighter display. It's also less dependent from your iPhone than the OG model. Its built-in GPS lets you track your activities without your phone, and its resistance to water (up to 50 meters) allows you to take a swim in a pool or tub as you track your metrics. Options include stainless steel, aluminum or a ceramic case, with a range of different bands. Add a Hermes or Nike band to level up the style even more.
Casio's durable smartwatch was built for the outdoorsy-type in mind. It features a tough and bulky case that's undergone military-grade endurance and environmental tests. It's also water resistant, but not suitable for swimming or diving); its has a dual layer LCD display that consists of digital time display and apps controlled via touchscreen. Three side buttons control your apps, watch functions, and tools for easy navigation.
Affordable and powerful, Sony's Smartwatch 3 features up to two days of battery life and built-in GPS functionality. Whether you go for a run or swim, this watch is reliable activity tracker and one of the best watches under $200 for active guys looking for a stylish timepiece. One major oversight: no heart rate monitor. In review, take calls, message friends, listen to music, check sports scores, become a better human being.
Made in the USA! USA! USA! The Expedition Trail was built for — duh — the trail. Whether you're running, hiking, or hiding out due to the zombie apocalypse, the Indiglo light (with night mode) a digital compass will allow you to know your location. Other perks: it's shock and water-resistant.
Pluses: built-in GPS  and MP3 make the Spark 3 a great running companion. The usual suspects also come with it: step and calorie counter, active minutes tracker, etc. Its sports tracker offers seven different modes, while the compass and route exploration functions help you navigate while running.
It looks basic but is armed with lots of solid functions: running, biking, treadmill, walking, and cardio modes; built-in GPS, optical heart rate sensor, and its waterproof up to 50 meters. Supports by both Android and iOS.
The digital sport watch keeps track of time in 31 different times zones, which is great for the world traveler or guys who are super nerdy and just want to know what time it is in Uzbekistan, and is waterproof to 200 meters. It includes a stopwatch accurate to 1/100th of a second and is much easier on your checking account at just over $100.
If you're looking for affordability, the Armitron watch is a solid option. They sell for around the $20 mark and have four different timer combos. It's not as flashy, but you get what you pay for.