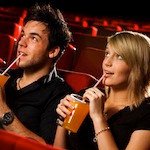 So, you finally did it. You finally got her number, and she's agreed to let you take her out! Now, the big question is, "Where do I take this girl?"
Here's the classic solution: the easy first date at the movies! It's casual, low key and has time for snuggling.
ALSO: 10 Incredibly Misleading Movie Trailers
Now comes the hard part; making a decision of which movie. This is a movie date, so the genre is key. Ask yourself, "What kind of girl does she seem like?" Do you appeal to her taste more than yours or would it not matter? Keep in mind that not all girls want to watch chick flicks. Some would go for something action-packed but not too gory. An example would be Skyfall or The Matrix. Who doesn't love a classic?
Go for something light-hearted that won't bring down moods, but keep it interesting so that your special lady doesn't think you have boring taste. A comedy is often a good bet but not an overly romantic comedy or one with too crude humor. Try something like 50/50 or Warm Bodies. There's romance for her and zombies for you; win-win right?
Another idea to spice up the ol' dinner and a movie date is to make it at a cool venue. Depending on where you live, there may be a drive-in movie theatre that would be great for a first date at the movies. Some movie theatres offer reserve seating and wait service. Others are housed in buildings with cool historic backgrounds. Showing her something outside the norm for a special night is something she won't forget.
Whatever you do, do not ever make your first movie date something about failing relationships. Blue Valentine and American History X are both absolutely amazing movies but totally inappropriate to make a first impression.
Check out IMDB.com for what's playing and what's hot and check the websites of your local theaters to see if there are any special deals!