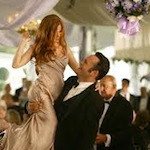 Does your heart race when you see a girl you would like to connect with? You are not alone. This is a universal feeling across both genders when faced with someone who is attractive. Below are some pointers for how to pick up girls:

1. Be Authentic.
There is no greater turnoff than a guy who is trying to be something he is not. Any woman who falls for the "tough guy" facade is living an illusion herself. You are enough exactly how you are, and when you really feel this way, it shows.
ALSO: The One Thing Women Wish Guys Knew

2. Be Honest.
These days, people are tired of the games. Any healthy woman worth dating is looking for a man who says what he wants with sincerity and honesty and can return exactly that. While dating can get convoluted as each party tries to feel out the long-term compatibility of the connection, honesty at every juncture makes the pill easier to swallow.
ALSO: How to Break Up with a Girl

3. Remember that rejection is not the end of the world.
It really isn't. Be brave. A door that seems like it has slammed in your face can mean it's time to move on to another door, with maybe a lock pick in hand this time.
When considering how to pick up girls, demonstrate your authenticity, honesty and courage. Girls do not go for guys who hide behind an image or won't put themselves in a vulnerable position. To get the girl, you must be a guy worth getting.