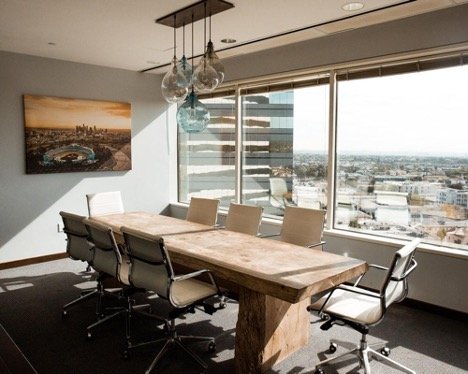 Space is a valuable commodity, especially in massively populated urban areas that frequently attract top talent with career advancement opportunities. That means renting a professional space in these urban areas can have a high cash value if you utilize it to its full potential. But in order to do so, you must feel completely safe with the idea of renting your first commercial space. We will take care of that. In this post, we've listed several advantages of renting for professional reasons and why we think renting an office space is important for small businesses.
Why Renting?
There are a few reasons it could make more sense for your business to rent an office space, including:
Your early-stage business is scaling and you're not sure how fast you might outgrowth the property.
The current market is unpredictable, so only committing to a three-to-five-year lease comforts you.  
When renting, you generally won't have to pay for major repairs, maintenance, or upkeep of the property, though you may be expected to fund minor repairs.
Your budget is limited, and you don't have enough to complete the payment. 
Renting will tie up considerably less of your liquidity because you don't need to make a down payment to move into the space. 
Your business is new to a market area, or your customer base is in a limited geographic area, and the only option is to rent without losing customers. 
Your timing is important, and you're in urgent need of a building within the next 30 to 60 days. 
When renting commercial real estate, you can get the most out of greater flexibility which you can't have when you buy your own space. For example, if the location isn't right for the business, you can choose to leave after the expiration of the lease. If the space is too big or small, you can easily move to a new place at the end of the lease.
Renting the workspace is an important part of operating a successful small business. That said, even with the frequency of remote workers, most workplace operations cannot be replaced by virtual work setups. Renting a commercial space makes more business sense because:
A professional workspace makes it clear to customers, clients, and the community you foster, fostering that you're committed to your business plans.
The purpose of a professional space is to conduct business and create a distraction-free environment.
Professional workspaces encourage collaboration and connection.
Since the latest pandemic events, more than 75% of businesses have fully returned to the office. Welcoming teams back to the office is, in many cases, beneficial for your employee's wellbeing. If you're a small business that operates as a tight-knit group, face-to-face communication is crucial to getting work done.
Renting commercial space is swift and easy
Are you looking for a workspace for rent in the Newcastle area? Walton Robinson offers commercial space for rent anywhere in the North East. Finding an ideal business location will be much easier if you connect with a commercial leasing agent you can trust. But before you sign that lease, here's what you should know about that process.
To successfully rent a workspace, you must take time and read the agreement fully before signing.
You must consider a location that's accessible for your employees and customers. You must also rent commercial real estate in a safe area as much as possible. 
You must factor in the businesses nearby before renting a commercial space. Determine how they can impact your business if you run your operations in the area.
You must be flexible in the renting process, consult with a professional, and decide if you're renting for the short or long term before signing the agreement. 
There are indeed many things to take into account when renting your commercial real estate. And like the ones mentioned above, it's also important to work with professionals like a commercial real estate broker whose job is to lease or sell commercial properties. You may also want to look for investors who engage in passive commercial real estate investing. They may have a list of commercial properties that you may rent to run your operations. Once you find the right commercial real estate, it's time to tackle the renting process. So, if you think you're ready to rent your first commercial space, here are three steps to follow throughout the renting process.
Know your short- and long-term business needs in a space
Much like shopping for an apartment or home, looking for professional space can be both exciting and overwhelming. But being prepared can reduce the stress of your search. Don't just sign papers and schedule for tours without having a clear notion of what you need and can afford.
We suggest you prep in advance of the search by understanding how you will actually use the space, what amenities are necessary, and setting "price guardrails" to avoid going over budget. Given that each office space will have different features, it's vital to understand your priorities first.
Make sure you have a trajectory and set objectives for the near future to make sure your new workspace can scale with your company. Before visiting any office buildings, you should ask yourself where you see the company in one, three and five years.
Time is Money – Take It
When you need a comfortable space to grow your team, you might find it's best to lease the first professional space that meets your needs.
However, a clear mind makes clever decisions. And while you might be tempted to sign for the first office that meets your needs, it's best to take your time and preserve that optionality for as long as possible. That could even mean embracing short-term renting periods while you search for the ideal workspace.
Signing a long-term lease when your business scales significantly can prevent growth and possibly even require you to fund two different spaces at the same time, which only creates logistical challenges and cost-inadequacies. Locking in a shorter lease period may even provide you with a fully furnished professional space and temporary coworking space until you're ready to rent for a longer period.
Before you sign that lease
Unless you're fully versed in real estate, you're likely going to face some confusing terms and phrases in your agreement contract. If that's the case, you will need the advice of an experienced real estate professional. No matter how much you read about those terms, there's no replacement for talking to a professional who has been working in the real estate market for years-long.
Finally, given that your priorities and desires for a workspace might change, it's important to list places and schedule different tours before making your final decision. 
Conclusion
As a small business owner, renting commercial real estate can be one of the important factors to consider. In most cases, the decision on whether to rent or buy a commercial space depends on your financial situation and other factors, such as your willingness and readiness to take on the responsibilities of ownership.
But if you think renting your commercial real estate makes more business sense for you and your employees, keep the information mentioned above in mind to help you make an informed decision