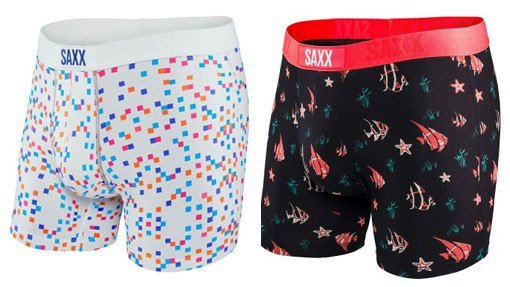 We never thought we'd be so eager to shell over $30 on a pair of boxers. And that's because A) we're cheapskates, and B) we understand that Target or Amazon have six packs of cheap boxers for under $10. But when we received a pair of Saxx ($30 @ saxxunderwear.com) and slipped them over our nether parts, life instantly got better.
Also: 10 Amazing Pairs Of Sweatpants For Guys
We tried the Saxx Vibe. They were snug enough to limit shifting and bunching — we mean with our nuts and butts, of course — and the "no fly" eliminated any unwanted periscope action. This might be too much info, but we suffer from serious SWASS, and have been looking for a pair of comfy boxers to kill it. We've tried compression shorts but they can grip too much at times. The moisture-wicking waistband and soft viscose fabric on the Saxx did the job, supplying comfort while soaking up SWASS. If you aren't a fan of the styles pictures, there are 28 more to choose from.
Our tip: if you're on the fence as to which size to get, go larger. Comfy or not, they'll still ride up your crack if you get a pair that are too short for your stubby legs and bulbous ass.